Course price list
Assessment credit prices
Level
Quantity
First Aid at Work
Food Safety
HACCP
Occupational
Health and Safety
Introductory
1-25
26-50
51-100
101+
N/A
N/A
N/A
N/A
£8.00
£7.50
£7.00
£6.50
N/A
N/A
N/A
N/A
£8.00
£7.50
£7.00
£6.50
Foundation
1-25
26-50
51-100
101+
£9.00
£8.50
£8.00
£7.50
£9.00
£8.50
£8.00
£7.50
£9.00
£8.50
£8.00
£7.50
£9.00
£8.50
£8.00
£7.50
Intermediate
1-25
26-50
51-100
101+
£30.00
£28.00
£26.00
£24.00
£30.00
£28.00
£26.00
£24.00
£30.00
£28.00
£26.00
£24.00
£30.00
£28.00
£26.00
£24.00
Course book prices
Level
Quantity
First Aid at Work
Food Safety
HACCP
Occupational
Health and Safety
Introductory
each
N/A
£2.80
N/A
£2.80
Foundation
each
£2.25
£3.60
£3.60
£3.60
Intermediate
each
£4.50
£18.50
£10
£18.50
Printed certificate prices
UK
£9 certificate including delivery
Europe and Channel Islands
£9 certificate + £15 postage (up to a maximum of 50)
Rest of World
£9 certificate + £25 postage (up to a maximum of 50 )
*All prices are exclusive of VAT
If you'd like to discuss discount options, please contact us.
Cost of Product Licences
£100 for each subject area.
Purchase course credits, materials and licences by contacting our Contact Centre on 020 7827 5800 or email info@cieh.org.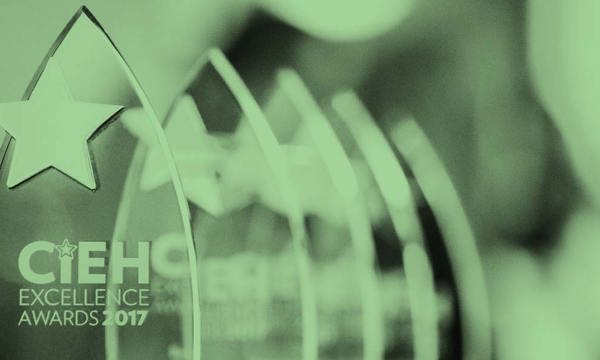 CIEH Excellence Awards 2018
Our prestigious awards recognise the originality, creativity, passion and hard work of individuals and teams in the environmental health sector.
Find out more
Top