This category recognises an innovative, engaged and successful partnership scheme or collaborative project which has demonstrated successful influence and impact on public protection in the last four years (January 2017 to February 2021).
Criteria
To enter this category, you will need to submit the below information into our entry form. You can enter this directly or cut and paste your responses from a Word document.
Overarching summary
An overarching summary (of no more than 100 words) must be submitted to give an outline of this project/initiative and its outcomes. This summary will be used in the event the entry is shortlisted in the CIEH Excellence Awards and may be used in marketing material for future Excellence Awards.
Project details
In no more than 1,000 words, you should detail the following:
Brief and objectives of project/initiative: clear and SMART objectives of the collaborative work or project and acknowledgement of the key organisations or individuals who have collaborated and worked together on a project or significant effort that advances departmental goals
Rationale behind campaign, including research and planning: rationale for the collaborative working scheme and details on how the partnerships and collaborations evolved
Measurement and evaluation: quantified details of projects, outcomes, achievements and the effectiveness of what was delivered; evidence of collaboration with all stakeholders involved and the successes of partnership working
Budget and cost-effectiveness: budget information should relate to activity and demonstrate cost-effectiveness in terms of quality and value for money.  Examples of how any budgetary costs were managed under collaborative arrangements
Images, company logo and team/individual photos
You should provide:
A maximum of two images to illustrate your entry
A company logo
A photo of the individual/team involved in this project. Images should be jpegs (.jpg) and each file should be no bigger than 2mb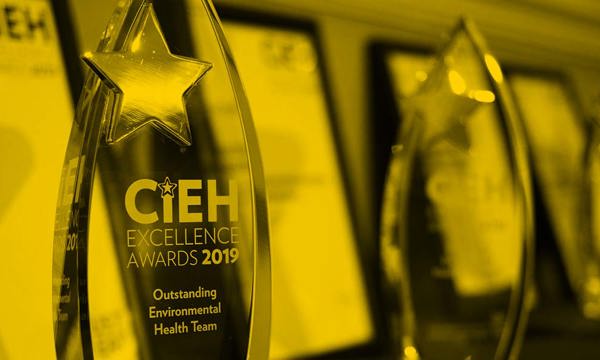 CIEH Excellence Awards
The CIEH Excellence Awards is the premier international awards scheme for recognising and celebrating excellence and achievement in environmental health.
Find out more
Top