Getting a grip on the coronavirus pandemic needs more than mass testing – it needs "intelligent" testing linked with tracing, according to a professor in charge of one of the government's testing labs.
Professor Alan McNally of the University of Birmingham, who is infectious disease lead at the Milton Keynes Lighthouse Lab, the government's flagship COVID-19 testing facility, said the focus around testing has been on volume and speed when it needs to be on intelligent targeting, linking in with contact tracing.

McNally said the UK had now reached levels of testing comparable with other countries and that the government needed to direct the resource so that it could be used most effectively.

He said: "I think we're focusing on a number... if you look at the testing capacity we have now in the UK, it's the equal of anywhere in the world right now, in terms of how many samples we can test a day and the speed we can do it.

"I just wish we could focus more on 'how do we use that testing capacity intelligently'. How do we use it to, for example, safely reopen schools? How do we use it to know that we are tracking the incidents in care homes sufficiently?.

"And rather than just say, 'OK, we're going to test 200,000 people on a given day', say 'OK, we have the ability to test 200,000 people – who are the people we should test to really maximise the benefit of that?'"

McNally added: "We are here to run the tests that we were given. I think questions need to be asked at a much higher level than the laboratories of how we use that capacity and how do we combine it with an army of what we call in the trade 'shoe-leather epidemiologists': people doing the tracing.

"So if you find the positive[-tested person], do the contact tracing of everyone that person's been in contact with, and then we test them, and then we test people they've been in contact with, and just use these tests properly, use them in a really targeted way – that's what will make a difference to the epidemic in the UK."

McNally was speaking to Radio 4's Today programme this morning (20 May 2020) as he came off a 12-hour night shift where he is one of a team of 54, being replaced by a 12-hour day shift of 56. The Milton Keynes lab is processing between 20,000 and 30,000 tests a day, which McNally described as Herculean effort and pointed out that all of the people working were volunteers.

Asked about criticisms around delays in some test results, he did highlight an issue around organisation: "There are logistics around transporting samples from all over the country to a couple of centralised laboratories and that in itself can take up to 12 hours."
But overall he argued the "vast majority are turned around very quickly" despite occasional 'valid' problems. These included issues where the bar code label had been stuck on the vial the wrong way, which meant it had to be processed manually, which takes longer. Sometimes the lid was not screwed on properly and so the team had to work out a way of retrieving the sample and testing it.

McNally suggested the instructions could be simplified to help. "The instructing pamphlets that come with the home testing are fairly long. And it may be that they could be simplified, particularly if you think about some of the target demographic for those home tests and care home tests.

"What we would urge people to do is just take some time reading that pamphlet that comes with the test kit before you use it, before you send it back."

He added he'd heard of issues with some delays in reporting back test results to patients due to 'hiccups' with the Department of Health and Social Care's IT system.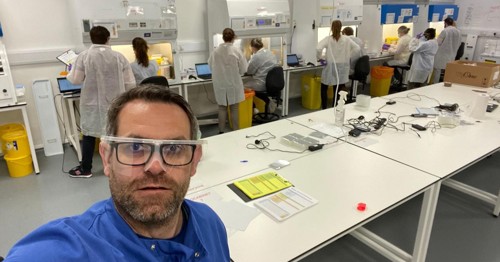 Professor Alan McNally (credit: Alan McNally)