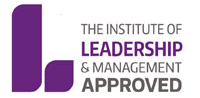 Take your career to the next level with the Introduction to Leadership online course, certified by The Institute of Leadership and Management (TILM).
The programme combines online learning resources with interactive guidance from leadership experts and is designed around The Institute of Leadership and Management's Dimensions of Leadership:
Authenticity
Vision
Achievement
Ownership
Collaboration
You will delve into 'knowing yourself' better, how your values fit with your organisation and developing the resilience to cope with uncertainty. Then focusing on the core capabilities and skills to succeed including developing high-performing teams, gaining support from your manager, leading through change to deliver results, making effective decisions, evaluating risks to the business and honing your negation skills.
Benefits
Unlock your potential to manage, motivate and inspire others
Access the programme for 12 months allowing you to fit your learning around your workload and complete the programme at your own pace
20 hours of CPD
Modules
To find out more about the Dimensions of Leadership, visit the TILM website.
Cost
A one-off fee of £75.
Top