Chartered status case study:
Tyler Wray MCIEH CEnvH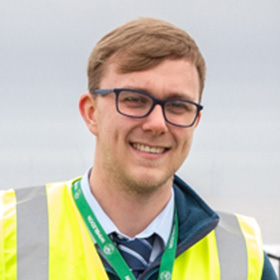 Tyler works as an Environmental Health Practitioner within Port Health at North East Lincolnshire Council, and he graduated from the two-year, practice-based Chartered Environmental Health Practitioner Programme in 2020.
Chartered Status has always been a career aspiration of mine, so CIEH's Chartered Environmental Health Practitioner Programme was the next natural step for me to demonstrate my professional competence.
The programme is highly personalised, and this really helps as everyone has different career goals. This allowed me to focus on food safety and integrity and environmental protection which were the two technical competencies relevant to me. I'm employed so I'm already in the workplace, and this bridges that gap between the theory that I've learned at university and putting things into practice.
The personalisation meant that many of the work-based activities I undertook were part of my day job so it was straightforward to complete these. Then I organised additional opportunities with colleagues to undertake the activities in the workplace I needed to fulfil the programme's requirements.
The programme introduced me to competencies and skills I had previously very little experience in, such as securing investment project management, so it provided me with new skills I could directly apply to my role. It also incorporates a professionalism block which taught me the ethical and professional standards that are expected of Environmental Health Practitioners (EHPs), which are vital for upholding the reputation of the profession.
The programme has been really good for my professional development and taught me how to critically evaluate and reflect on my work, enabling me to make better decisions which overall makes me better equipped to protect the health of the public.
I think it's really important to remember that the programme benefits both the employer and the individual. My mentor was there to help me identify the relevant work-based activities and support me through the programme from start to finish. While it is focused on building the skills of the practitioner, employers can prioritise certain areas if there are any specific needs within their workplace.
Being Chartered is recognition of a standard of knowledge skills and professionalism, and gives confidence to your stakeholders, but more importantly it gives you confidence in yourself. If you want to progress your career in environmental health, then I thoroughly recommend that you apply.
Since becoming Chartered, I have gained a position at North East Lincolnshire Council as an Environmental Health Practitioner within their Port Health department. I have also enrolled on the Advanced Professional Certificate in Food Hygiene and Standards Control.
You can also read a previous interview with Tyler and his mentor, David Dodds, which originally appeared an article in the February 2019 issue of EHN.
CIEH Leadership Programme
Take your career to the next level with the CIEH Leadership Programme.
Find out more
Top