James Johnson, an EH officer at Cannock Chase District Council, thought he was investigating a waste dump. What he found was far more disturbing. He told EHN about it:
"Last July, the fire service reported to us that they had found lots of waste at a site alongside a railway line in Rugeley. I went up on a Friday afternoon to take a look at it.
"The man who ran the site, Kevin Bramwell, happened to be there when I arrived. He was co-operative as we chatted about the waste and it only became awkward when I discovered an old Tesco home delivery van that had been fitted with wire mesh to keep half a dozen dogs inside. I quickly found others. None had food or water. Their faeces were inches deep in places. The temperature that day was more than 30°C and the odour was terrible.
"The conditions were appalling and some of the dogs were clearly suffering. Luckily for me, Bramwell didn't suspect that a person who deals with waste might also deal with animal welfare. Towards the end of my visit I told him that I needed to make a couple of phone calls.
"I went back to the road to frantically make them. As I was taking a while he came to find me, so I had to hang up as I didn't want him to hear. He said he had to leave so I had to tell him about my concerns over the animals and that it would be best if he stayed, otherwise we may have to force entry to the land. Fortunately, he co-operated.
"Altogether, I found 30 dogs and two raccoons on the site. The dogs, a mixture of lurchers, whippets and other breeds, were suffering from lesions, ear infections and dental disease.
"We later found that Bramwell had advertised more than 100 animals between January 2014 and July 2018 to the value of almost £50,000. He had created multiple identities and used different addresses to avoid his deceit being uncovered by the websites he used for puppy sales.
"In court, he pleaded guilty to fraud by false representation, operating a pet shop without a licence, operating an unlicensed breeding establishment and eight charges of animal cruelty. He was sentenced to 70 weeks' imprisonment, 12 months' supervision and banned from keeping animals for 10 years."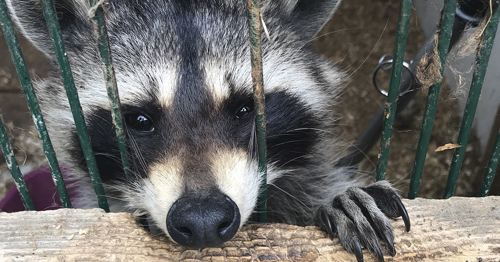 One of the raccoons that James found
This article is adapted from one that appeared in the November 2019 issue of EHN (login required).