The Food Standards Agency is launching a hard-hitting campaign highlighting the devastating effects of allergen poisoning on sufferers. The campaign will target businesses and young people.
FSA chair Heather Hancock said improving the quality of life for the two million people with food allergies, as well as those with food intolerances, was a top priority for the agency.
Hancock pointed to new FSA research she expects to be published shortly that suggest that the quality-adjusted life-year (QALY) for food sensitivity is at least as big, and in some cases may be bigger, than many of the bugs that food safety regimes have focused on.
Hancock also said the agency would place a new focus on young people, as while they are not traditionally classed as a vulnerable group, 16-20 year olds are more at risk when it comes to food allergens.
Speaking at the FSA's first annual allergen conference at the end of February, Hancock said we need to, "change our mindset and start upping out collective game, as this issue plays out most severely with a new kind of vulnerable cohort, one that isn't usually the focus of food safety."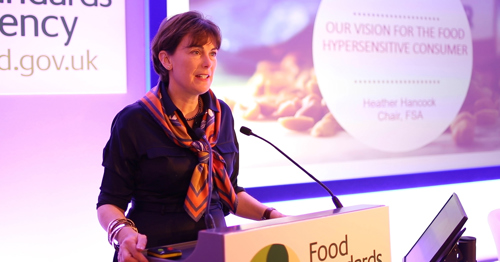 FSA chair Heather Hancock

Hancock added: "Around ten people every year die in England and Wales as a result of food allergies and they are more likely to be in this age group…
"We can all understand that in amongst all the changes in their brains, bodies, lives and freedoms, there is a proven increase in risky behaviour generally amongst 16-20 year olds."
The FSA will launch a media campaign later this month, talking about the business implications of not accurately conveying allergen information – including the fact that a company could go out of business.
To carry out the campaign the FSA has partnered with the Nationwide Caterers Association, TUCO (an association of in-house catering organisations) and the British Sandwich Association.
At the same time the FSA will also target front-of-house, with a campaign encouraging serving staff to take allergen requests from customers seriously, and focusing on the human impact of allergy reactions.
Later this summer, the agency will launch a fresh campaign focusing on young people, highlighting the risk of not speaking out about food allergies. It will aim to normalise talking about the issue among young people and at the point of purchase and consumption.
Hancock said a "collaborative" approach was needed across business, charities and the public sector, to ensure we weren't "collectively missing a trick". The FSA will be working on ways of measuring progress in this area.
Hancock added that food hypersensitivity hasn't replaced microbiological risks in food as an area of concern, but is expanding the volume of work the agency has to deal with. At the next spending review, the agency will be making a "strong case" to central government for increased funding to tackle this area.