The law around use-by-dates is "crystal clear", a judge said as he fined Tesco £7.56m for selling products past their use-by-date across three of its Birmingham stores.
The retailer pleaded guilty to 22 breaches of the Food Safety and Hygiene Regulations occurring between 2016 and 2017. Tesco was also ordered to pay Birmingham City Council's £95,500 court costs and £170 victim surcharge.
Tesco tried to avoid prosecution, first appealing to the primary authority Hertfordshire County Council and then the Office for Product Safety and Standards.
When this failed it went to the High Court last year, providing an expert witness, arguing out-of-date food could still be eaten and shouldn't be an offence. When the retailing giant lost this bid it changed its plea to guilty.

District Judge Shamim Qureshi, sentencing at Birmingham Magistrate's Court on Monday (19 April), said the law around out-of-date food was "crystal clear" and that Tesco pleaded guilty because it had "run out of options".

Using the same expert witness in the High Court case, Tesco provided evidence in the Birmingham case of bacteria levels in identical out-of-date foods found by EH officers, and the food was safe to eat.

But the judge said ordinary members of the public did not have access to labs in their kitchen or back garden to test bacteria levels.

However the judge did add that Tesco has an overall good safety and hygiene record, and has taken steps to reinforce training and resolve problems, which was reflected in sentencing.

In total Birmingham City Council EH officers discovered 67 out-of-date items across the three stores. They were first alerted by a member of the public and visited the Tesco Express, Linden Road store, in Bournville, on 17 June 2015 and discovered six out-of-date-items. Prosecution was not pursued and instead Tesco was given an opportunity to review procedures and resolve the situation.

However, on being invited back to the store on 12 April 2016, a further 29 items were discovered to be out of date - including own-brand pizza, doughballs, soup, pork belly slices, potato salad, trifle and flavoured milk. These products were expired for between one and 17 days.

The following year on 1 June, officers found a further 25 out-of-date products at the Tesco Metro store on Bristol Road South, Rubery, including own-brand scotch eggs, quiche Lorraine, and Little Dish (children's meals) chicken and veg risotto and pasta bolognaise.

The next day a further 13 expired products were discovered at the Tesco Express shop on Carrs Lane, in the city centre, including own-brand falafel and houmous wraps, grapes (with visible mold) and strawberries, and berry medley pots

A Tesco spokesperson said: "We're disappointed that a small number of out-of-date products were found on sale in three stores in 2016/17. The safety of our customers is always our priority and these incidents are not representative of the high standards of safety and quality we expect in Tesco stores.

"We took immediate action to address this at the time and we want to reassure our customers that we have robust procedures in place to make sure that this doesn't happen."

Birmingham City Council head of environmental health Mark Croxford said its successful prosecution against one of the UK's biggest supermarkets should act as a "warning" to other retailers to ensure stock is in-date.

He added: "Supermarkets have a duty of care to ensure the food and drink they display for sale are in date and therefore safe to consume – however visits by our officers and the public complaints show this is not always the case.

"The purpose of the use-by date is to protect the health of the consumer. The manufacturers put the date on their products to guarantee the food is safe and ignoring this date completely undermines consumer safety.

"There were numerous missed opportunities to check the dates on these products and remove them from display – and the fact incidents were found on several occasions, in different stores and over 14 months, is a major concern."

Kate Thompson, CIEH's Wales director with special interest in food safety, said: "This is a very positive outcome for Birmingham City Council and demonstrates the authority's commitment to ensuring consumers are protected from risks associated with food."

She added: "Use-by dates are there to keep people safe. The fine is significant and will serve as a timely reminder to others of the potential consequences of flouting food safety requirements."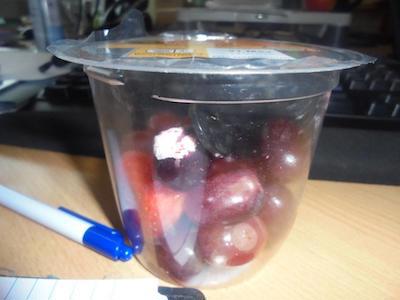 Grapes found at one of the stores by EH officers.


The judge's comments
District Judge Shamim Qureshi said: "Since 2014 the law has been absolutely clear that food cannot be sold after the use-by-date. Tesco decided to try to argue that food is still consumable after the use by date and it should not be an offence.

"They found a scientist who gave that opinion. Lawyers and judges might think and say such arguments are interesting and of public importance. Tesco say the law needed to be clarified. It was crystal clear but Tesco tried to make it confusing.

"In the world of common sense, such an argument was simply spurious and without any merit in it whatsoever. This needs to be said to Tesco and others in case people want to find ways to avoid complying with the food safety laws.

"If the Tesco defence was a valid one, no one would ever plead guilty to selling an item after the use by date and they would shop around to find a scientist to say it is still safe to eat. If Tesco had succeeded with this implausible defence about unsafe foods, then the game of Russian Roulette can be described as a safe one!"

Tesco's expert witness analysed identical food items as the original ones were destroyed and found the food was safe to eat. The Judge said: "He checked the bacteria and thought the levels were fine and rendered the food safe to eat. He would be happy to eat them.

"He even compared the cotton-like mould on grapes to the mould in blue cheese. He is completely at odds with the feeling of disgust that any ordinary member of the public would have on seeing the mould on grapes.

"If I am wrong about that, then perhaps someone might pioneer a new market amongst the public for mouldy grapes to be eaten with mouldy cheese, mouldy biscuits and pungent wine.

"In his opinion some of the food manufacturers are wrong to even put a use-by-date on some of their foods. In my view, the problem with this methodology is that the ordinary customer does not have access to a scientific laboratory in their kitchen or back garden to test the amount of bacteria in foods beyond the use by date."

Read the full judgment here.