A council environmental health team has won an award for outstanding contribution to local communities thanks to its partnership with food charity FareShare during the COVID-19 pandemic.
The Royal Borough of Greenwich in London has been FareShare's primary authority since 2017. Between April 2020 and March 2021, FareShare distributed nearly 132 million meals – four meals every second – to approximately 11,000 charities and charity groups across the UK.
In Greenwich itself, FareShare provided ingredients for the Community Hub, which fed approximately 300 people per day during the summer last year and ensured local people had home-cooked meals for Christmas 2020.
The work was recognised at the Regulatory Excellence Awards 2021, an annual event run by the Office for Product Safety and Standards.
Jackie Smith, Greenwich's cabinet member for community safety and enforcement, said: "We are absolutely delighted to have received recognition for our environmental health team's vital work with FareShare during the pandemic, which has provided a lifeline for so many people in our borough and beyond. This award demonstrates the incredible impact that local authorities can have when working closely with businesses and organisations, and we are proud to have been able to work together in this way."
Rachel McLean, senior compliance and continuous improvement manager for FareShare UK, said that the partnership had allowed the charity to expand and vary its operations during the pandemic. "Because of this work, we've been able to continue to put food on the tables of vulnerable people and support local charities in combating the stress and isolation of food poverty," she added.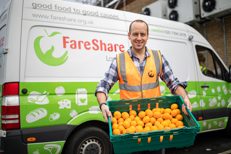 A FareShare volunteer outside their warehouse (copyright Rob Pinney)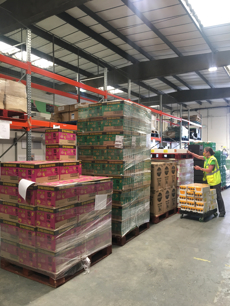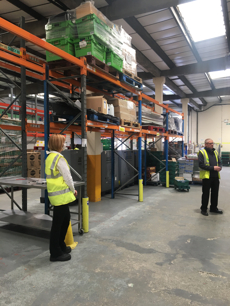 A member of Royal Greenwich's environmental health team visits the FareShare warehouse in Deptford