Dudley Metropolitan Borough Council in the West Midlands has raised safety concerns over cartridge needles used with some rotary tattoo, semi-permanent make-up and micro needling machines.
The council has discovered that some of the cartridge needles coming on to the market do not have a membrane or valve preventing a back-flow of blood, ink or serum into the handpiece, which may leave customers at risk of infection.
EH officers across local authorities nationally are being urged by Dudley MBC to investigate beauty premises in their area and use prohibition notices if necessary to secure compliance.
Senior EH officer Kelsey Sudworth at Dudley MBC said: "It's the absolute basics of cross-contamination and it could be happening up and down the country.
"If someone has a tattoo done and they have HIV or hepatitis – and that needle doesn't have a back-flow valve and the blood and ink makes it back into the machine – then the next person who comes along could be exposed."
Sudworth has taken the needles without a back-flow valve and, using coffee, proven that liquid can track back through the cartridge needle and go into the device. She also found ink inside a device during a site visit to a tattoo parlour where a cartridge without a back-flow valve has been used.
Sudworth said a few practitioners she has spoken to have discovered the fault with the cartridges themselves, while others have not seen the risk. She said one tattooist was horrified when she pointed out the problem, as it had not occurred to him. Sudworth added that manufacturers and suppliers may not always be aware of the problem.
The council has also reported a "dramatic increase" in the number of cosmetic piercing and semi-permanent make-up registrations under the Local Government (Miscellaneous Provisions) Act 1982. If this trend is being replicated nationally, the need to address concerns around unsafe cartridge needles becomes even more urgent.
The machines in question have a pen-style handpiece, which cannot be sterilised between clients in a traditional autoclave because they contain electric components. To carry out a tattoo or treatment, a plastic cartridge containing the needle is 'clipped' into the pen-style handpiece and is disposed of once the treatment is complete.
Any fluids remaining in the handpiece could be a source of cross-contamination between clients when the next cartridge is clipped into the handpiece.
Better-quality cartridges are fitted with a membrane, or back-flow valve, designed to prevent such cross-contamination. The membrane provides the tension for the movement of the needles in and out of the cartridge.
In cartridges where no back-flow valve is present this tension is usually provided by a simple metal spring or an elastic band, which provides no protection.
Some tattooists use grips and bars alongside their pen-style handpiece, so that the cartridge is plugged into the grip and not directly into the handpiece. It is only in these cases, Dudley MBC has said, that it may not be essential that the cartridge contains a back-flow valve. This is because the contaminated grip and bar are autoclaved or changed between clients.
However, semi-permanent make-up and micro needling machines are not used with grips and bars, and so any cartridge without the back-flow valve could pose an infection risk.
What to look out for
(images courtesy of Kelsey Sudworth at Dudley MBC)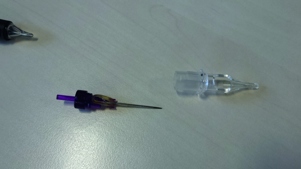 WITHOUT back-flow valve: this cartridge contains no membrane or back-flow valve. The tension is provided by an elastic band. Ink, blood or serum may travel back up the needle and into the handpiece.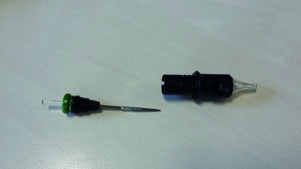 WITH back-flow valve: this black rubber membrane at the base of the needle provides the tension and also prevents ink, blood and serum from travelling back up the needle and into the handpiece.