Campaigners laid flowers at 11am at Tower Hill in London on Easter Sunday in protest at the construction workers who will lose their lives unnecessarily during the pandemic unless urgent action is taken.
Concern has been gathering that non-essential construction sites – including luxury hotels and infrastructure not due to open for years – are still being allowed to operate, and that social distancing measures are impossible to adhere to in this industry.
A campaign across social media, #ShutTheSites, is calling for the government to shut all sites that are not essential. Flowers were laid at the 'Building Worker' bronze statue commemorating those who have died within the industry.
A statement issued by the campaign said: "If construction workers are building a Nightingale Hospital or carrying out emergency maintenance on vital infrastructure, that's clearly crucial to fight this pandemic.
"But hundreds of thousands of building workers are being forced to continue working on building sites by greedy developers and employers in order to build luxury flats, hotels and powers stations that will not be completed for at least another five years. None of these are essential.
"Construction workers often travel on packed public transport or in shared minibuses, eat together in site canteens, live in huge site accommodation blocks and generally work in close proximity. No building worker in the country believes that construction can continue in any meaningful manner while complying with the two-metre social distancing rules."
The campaign is being backed by unions, including the GMB and Unite, as well as the Blacklist Support Group, which campaigns over the construction worker blacklisting due to health and safety whistleblowing. This organisation has been at the sharp end of some of the worst practices within construction and describes the major players within the sector as having an "appalling track record on health and safety".
The Scottish government has issued guidance saying that all sites should close unless they are "essential to the health and welfare of the country during this crisis" but there is no guidance about English sites.
The Welsh government introduced social distancing laws last week that if not followed can result in fixed penalty fines, and escalated to a criminal conviction and larger fines if still not complied with.
The campaign said it carried out a "full risk assessment" before laying the flowers, and allowed only two representatives to attend to comply with social distancing measures, despite many more wishing to be at the protest. The event coincided with a trip to buy food and the two-metre social distancing rule was applied, and private rather than public transport was taken to attend.
They added that the protest with two construction workers could be deemed unlawful, which was ironic given the thousands of construction workers, often lacking PPE, currently packed onto building sites across the UK.
The campaign is calling for financial support for construction workers (#PAYEveryworker), whether employed or self-employed or agency workers, so they can support their families.
It added: "Rather than forcing construction workers to choose whether to protect their families or pay their bills, the government should suspend all mortgage, rent, interest payments and penalty clauses for the next three months (as has already been done in Italy) and pay everyone a universal basic income."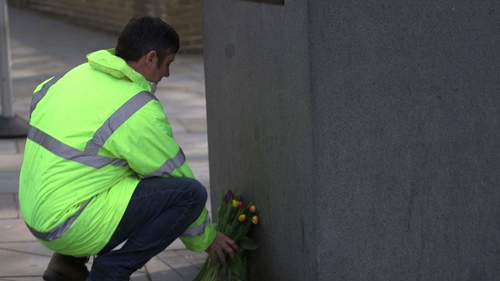 A protester laying flowers at the 'Unknown building worker' statue