With so much in flux during the pandemic, and in the run up to the end of the Brexit transition period, we decided to run our first EHN Extra opinion poll to find out what readers were thinking.
It ran over just three weeks in August and 265 of you generously shared your time and thoughts. Over the next month we will be sharing our findings with you, or for a sneak peak at the full results see the September issue of EHN magazine.
Here's what we found...
The current crisis has highlighted the importance of the occupational health and safety role. There is concern that places of work are key sites for passing on the virus, and one of the questions we asked you what you thought about occupational health and safety in general, and during the pandemic.
We asked EHN Extra readers what you thought generally about the level of inspection and enforcement in this area in local government, and you raised concerns. Over a quarter of you (27%) said the level was 'non existent' with a majority (55%) saying it was 'patchy, and more could be done'. A very small number (2%) said it was at the right level, and nobody said 'too much' work was being done in this area.
At the start of May the Health and Safety Executive (HSE) was given £14m, which would be used for extra call-centre employees, inspectors and equipment. Though as the Prospect union pointed out at the time, this level of funding comprised just 10% of the budget cuts the executive has suffered since 2010.
We asked about the level of support HSE offers you in your role around occupational health. A sizeable minority (22%) said no help was forthcoming, with a much larger proportion (45%) saying some support was provided but it was patchy and more could be given. A very small number said HSE provided enough support (5%) and surprisingly a large proportion (28%) said they weren't sure. This is a very surprising response from such a thoughtful profession, and there's certainly more to investigate here.
EH alongside other agencies have had to massively step-up during the pandemic, and take on enforcement of physical distancing and workplace hygiene. But did local government have enough powers to do this? A resounding majority (54%) said 'no', with a sizeable number either saying 'yes' or 'patchy, in some areas' (17% and 18% respectively). Again, quite a large number (10%) said they were not sure.
The majority of those responding to the reader poll were living in England (90%), with smaller numbers living in Wales (6%), Scotland (1.5%), and Northern Ireland (1.5%). Public sector workers comprised the majority (72%) followed by private sector (11%), with some identifying as working in other sectors (17%).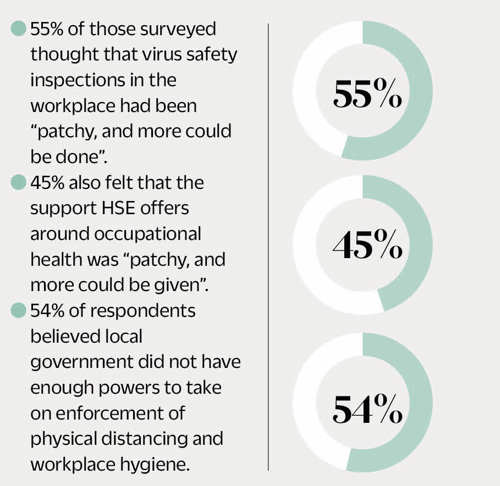 What you said
"My workload is not sustainable. There are H&S issues that don't get checked. Central government cannot withdraw funding and expect the same level of protection. Relying on local authorities to raise funding will only widen the gap between rich and poor. EH has a duty to protect the public but they can only do this if they are properly funded."
"Would be nice to have guidance on safety in officer premises visits, particularly where we have to visit for the NFH score.. The FSA guidance is very woolly and just saying do a dynamic risk assessment is inadequate."
"Wishy washy government guidance eg local authorities shouldn't allow big events and in the same guidance how to run those events during COVID-19… and the HSE still don't want us using prohibition for public health COVID19 related issues."