Two men have been jailed after a tenant died in a flat above a shop from carbon monoxide poisoning caused by a petrol generator running in the shop's storeroom.
Mushtaq Ahmed of Roundthorn Road, Oldham, and Shafaq Khan of Gainsborough Drive, Rochdale, were sentenced at Manchester Crown Court to serve nine and eight years respectively. They were found guilty of gross negligence manslaughter and seven health and safety offences. Joao das neves Afonso, 58, a tenant of Ahmed, died in September 2017 after Ahmed and Khan, who owned the shop below, then known as Diamond Mini Market, installed the generator in a storeroom directly beneath Afonso's flat.
The two men hired the generator after the illegally obtained mains electricity supply to the property at Wood Street, Middleton, was cut off. They went against the hire shop's warning that the generator could only be used for lights, and used it to back-feed electricity from the generator into the building's supply, a highly dangerous practice.
In May 2018, an employee of the electricity supply company visited the shop to enquire about an outstanding debt – and found another petrol generator in use in the same storeroom (the flats were by now empty). This was during the investigation into Afonso's death and after a post-mortem had confirmed carbon monoxide poisoning.
The investigation was a joint effort by Rochdale Borough Council and Greater Manchester Police. EHP Gary Parkinson-Fraser, health and safety team leader at the time of Afonso's death, said this was the 'worst and most complex case' he has dealt with.
"It's the most shocking I've ever dealt with in terms of the behaviour of these individuals," he added. "All the way through they denied it, tried to blame each other, even told us they didn't know each other. Right up until the end they wouldn't give any kind of apology or acceptance of what had happened."
Parkinson-Fraser led the investigation for the council, bringing in an expert witness from the Health and Safety Executive (HSE) to establish that the generator was responsible for Afonso's death, which was key to building the manslaughter case.
He also relied heavily on his council colleagues as he was gathering evidence. Ahmed was already known to the council's housing team as he had let the five flats above the shop despite being told they weren't compliant with building regulations. Khan had been served prohibition notices in relation to dangerous electrics on his premises as a food business owner, as well as having been caught in the past selling alcohol and tobacco products to children in his shop.
In addition, Khan was found to be working in a takeaway that sold a meal containing an allergen to the trading standards team during an allergen test purchasing project – despite having claimed to be recovering from major heart surgery that had caused a postponement of the court case. He was also a taxi driver (his licence was revoked as soon as he was arrested and charged for gross negligence manslaughter).
Parkinson-Fraser said the Work Related Deaths Protocol provided the framework for the joint working that was crucial to this case. "The police don't necessarily know EH's role as a health and safety regulator because they get us and HSE mixed up," he said. "Under the protocol, the police investigation takes primacy but ours must also be allowed to happen – so it was agreed that our investigations would run jointly and in parallel. We ended up complementing each other's investigations, which was the key to achieving a really good outcome to such a tragic and complex case."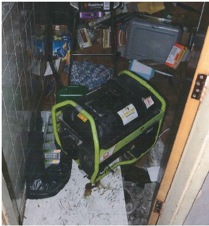 The generator was placed in a store room beneath the victim's flat.