EHP Donna Baldwin's job is to help manage risk at National Trust sites. She told EHN about some of the challenges of trying to do this during a pandemic.
"In my team – operational risk – we cover health and safety, security, fire safety, access and equality, environmental compliance. I advise all National Trust sites in the East of England which consists of historic mansion houses, formal gardens, nature reserves, countryside and coastal sites. The risks in all of those are so varied. It keeps me on my toes.
"During the pandemic we've had to change the way we have operated many of our sites to ensure the safety of our staff, volunteers and visitors. There's been this big push for people to get out into the fresh air and explore nature so we've seen a lot of people come to the Trust that aren't used to being in the countryside and may be unaware of what the risks are. So, at some sites we've reviewed the safety signage, for example, and we've made sure staff and volunteers have access to appropriate training so they're confident in dealing with any issues that arise from larger numbers of visitors.
"We've also had to adapt and learn over the last year with ever changing Government guidance. In the National Trust we follow the guiding principles of the Managing Visitors in the Countryside Guidance and the Historic Built Environment Guide – documents that I'd never needed to refer to when I was working in local government but which are central to my work now.
"Overall we have to be pragmatic in our approach. We want our sites to be visited and explored but also for the sites to be maintained and managed to respect their heritage status. Trust staff have really taken the COVID-19 precautions and surge of visitors in their stride. They like being busy, and they like having new visitors that they can encourage into the Trust."
Innovative solutions
"I used to work in local government, and generally there it's not too hard to find solutions to health and safety risk problems. However, the solutions in the historic environment are sometimes not easy to resolve. In the Trust it's very rare that you can say 'just put a handrail on that staircase'. So, we have other ways of dealing with it: locate volunteers at the top of staircases or move artefacts around so people aren't distracted by a pretty object as they descend. Outdoors we might come up with planting schemes to act as barriers. It does make you think outside the box."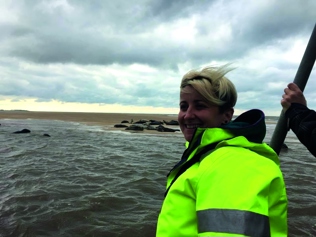 Donna Baldwin, Operational Risk Business Partner for the National Trust's East of England Region