Shelter Scotland has started legal proceedings against Glasgow City Council (GCC) for failing to provide homeless services for those in need.
The charity is seeking a judicial review and has accused the council of 'gatekeeping' and illegally denying emergency accommodation as well as 'systemic failures' in the city's homelessness services.
It wrote to GCC in August to warn it that it would resort to the courts if the council did not respond by the end of September. It asked GCC to outline the steps it would be taking to tackle the problem, but GCC remained silent.
Shelter Scotland said it has been talking with GCC over several years about these problems but has been stirred to action by a rise in the number of people forced on to the street.
Figures published in July showed that the situation was worsening with 3,365 people becoming homeless in the previous 12 months, compared with 3,025 the previous year. This is the first time, Shelter Scotland said, that it has taken action against an entire local authority.
Graeme Brown, director of Shelter Scotland, said in a statement: "Rights are not a privilege – they are a legal entitlement enforceable by law and the Council should not be allowed to disregard the law with impunity.
"We believe that if action isn't taken now to stop this practice – and public bodies are left to pick and choose which laws they wish to follow – then it will undermine citizens' rights across the board."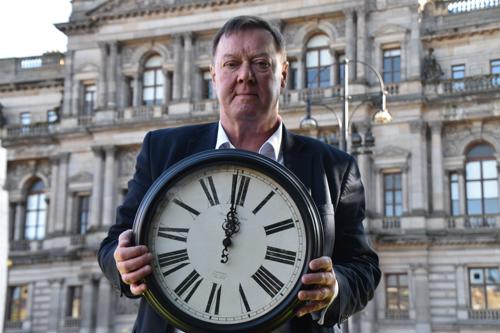 Graeme Brown, director of Shelter Scotland
A crowdfunding campaign called 'Shelter Scotland the People v Glasgow City Council' was set up to raise £20,000 to fund legal proceedings and has already raised £16,000.
A Glasgow City Council spokeswoman said: "Glasgow faces significant – and in a Scottish context, perhaps unique – pressures on our homelessness accommodation, and we continue to work with the Scottish Housing Regulator and partners in the housing and third sectors to help those facing homelessness and the threat of homelessness.
"We share a common aim with Shelter and, rather than focusing on court action, we would hope they could work with the council and its partners to ensure these challenges are met."
Shelter Scotland is also spearheading a campaign to enshrine housing as a human right in Scots law, headed up by the Scottish crime writer Val McDermid.
The charity launched a petition calling for the change earlier this month.
The campaign was originally launched following a Shelter Scotland YouGov poll carried out in August that found 88% of people agreed that there should be a legal right to a safe, secure and affordable home. Some 76% backed a new law on the right to adequate housing.
There are more than 14,000 homeless children in Scotland and nearly 11,000 households in temporary accommodation.
On Scottish Housing Day last month the discussion paper Housing as a human right was jointly published across housing groups – including Shelter Scotland.
It also has backing from the Association of Local Authority Chief Housing Officers, the Chartered Institute of Housing, the Scottish Association of Landlords, the Scottish Federation of Housing Associations, the Tenant Participation Advisory Service Scotland and the Wheatley Group, a housing, care and property-management group.
The paper found: "Any lasting solution to the housing crisis must recognise and embrace the concept of housing as a human right.
"We must identify and agree what this means for Scotland and Scottish policy so that every one of us can live somewhere in security, peace and dignity, supported by a system that acknowledges that we all need more than a house, we need a home."
Wider debate around enshrining human rights into Scottish domestic law – including housing – has already reached the Scottish Government.
In December last year its first minister's advisory group on human rights leadership discussed the issue in the paper Recommendations for a new human rights framework to improve people's lives.
The paper said: "The rights in UN treaties include not only the civil and political rights… they also include economic, social and cultural rights, such as: the rights to an adequate standard of living, including adequate housing…"
Professor Alan Miller, the chair of the advisory group, said in his foreword: "There is an urgent need of human rights… It is under pressure from those pursuing self-interest.
"People around the world, generations to come and the planet itself deserve better… we have reached a moment when there is a sense of ambition and Scotland is ready to take those leadership steps."