Ruth Andrews is the head of investigations and safeguarding at the multi-agency team Operation Gauntlet, based at North Yorkshire County Council. She told EHN that when it comes to tackling fraud and organised crime, all is not always as it seems.
"Knowing that we are targeting offenders who exploit the most vulnerable members of our society drives my work. The positive feedback we get from victims is motivation to do more. In the past two and a half years, we have prosecuted 43 defendants for fraud-related offences and have achieved 84 years and eight months of imprisonment for those receiving a custodial sentence.
"We also undertake confiscation cases under the Proceeds of Crime Act, to remove offenders' assets gained from their criminality. However, in times of austerity, securing the funding necessary to continue the work we do is the biggest worry. The scale of frauds taking place can seem overwhelming at times. Sadly, we cannot help everyone.
"Many of the doorstep crime offenders we prosecute are members of the travelling community. We are increasingly encountering instances of forced labour committed by these offenders, where they have other vulnerable people – primarily drug and alcohol dependent and homeless individuals – who they force to undertake labour in exchange for heroin or alcohol. Some are kept in caravans or vans without access to amenities, food or water, and are subjected to intimidation and violence.
"The forced-labour issue we encounter is a serious concern. Getting victims to co-operate and therefore being able to assist them is very difficult, not least because of their fear of reprisals. Being able to identify such victims is also a concern. When we think back to historic cases, I'm sure there were situations we missed. We want to avoid that in the future.
"I started as an admin officer at Oxfordshire Trading Standards in 1989 and worked my way
up to my current position. This gives me an appreciation of the support provided by officers at all levels of the service. We set up the multi-agency team in 2015, as a best practice model to tackle all forms of fraud against the vulnerable.
"We need to be more aware of modern slavery and forced-labour issues. We have to recognise that sometimes those we are dealing with as offenders may also themselves be vulnerable and are being exploited by others in the criminal gang. I love getting justice for victims who are unable to protect themselves from these heartless offenders. This includes being able to return their life savings when we have confiscated the offender's assets."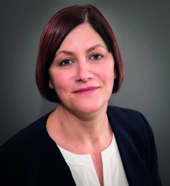 Ruth Andrews of Operation Gauntlet
This article is adapted from a piece that appeared in the May 2019 issue of EHN.