Heavy goods vehicles are being made safer for pedestrians and cyclists in the capital thanks to a scheme from the Mayor of London that began this week.
Large lorries comprise just 4% of road miles driven between 2015-17 in the capital but were involved in 63% of fatal collisions with cyclists, and 25% with pedestrians.

Sadiq Khan said the Direct Vision Standard scheme, which works by minimizing blind spots within the driving cab, is a world first.

Based on a star system, HGVs heavier than 12 tonnes will be rated from zero to five – lowest to highest – and will need to meet a minimum of one star to drive in the city.

HGVs that do not meet the minimum one-star requirement will have to fit 'Safe System' measures that include camera monitoring, and noise alert and sensors when turning left.

Operators have until 26 October next year when the scheme becomes operational to ensure their vehicles are compliant. At the same time, heavy goods vehicles will also have to start to comply with tougher standards in London's Ultra Low Emissions Zone.
Khan said: "I'm proud of our world-leading plans to remove the most dangerous lorries from London's streets. So many of the tragic deaths on our roads involve HGVs and this new scheme will help save lives.

"Forward-looking businesses have already been choosing safer vehicles in the run up to HGV safety permits becoming available."

The project was developed in partnership with Transport for London, London councils, researchers from Loughborough University, the Living Streets charity for everyday walking, and the national Road Peace charity for road crash victims.

Road Peace campaign coordinator Victoria Lebrec said: "I lost my leg in a crash with a lorry in 2014 because the driver didn't see me.

"Since then there have been many people killed and even more seriously injured because the lorries currently driving on London roads are not fit for purpose. It is madness to have huge, heavy vehicles with poor visibility on roads that are filled with people."

Khan launched the scheme at building material firm Cemex, which is backing it.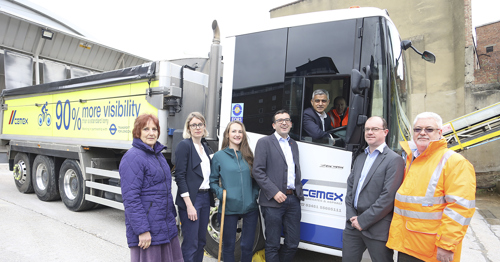 Sadiq Khan (in the lorry) at the launch of the scheme with stakeholders including campaigner Victoria Lebrec (with walking stick)