A poor and misleading portrayal of EH officers in a popular BBC programme has been slammed by the CIEH Director for Wales.
Kate Thompson said environmental health is often negatively portrayed in the media and this latest example has prompted her to take action and write to the broadcaster.

The episode Roach Motel aired on 23 January and features two warring brothers. One of the siblings is an EH officer who takes revenge on his brother by planting cockroaches in the kitchen of his motel.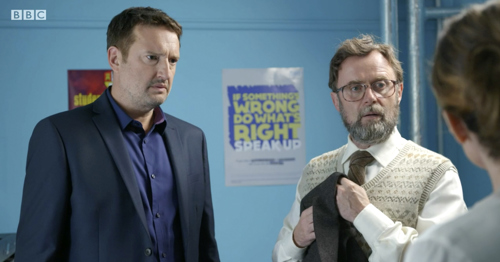 A still from the 'Roach Motel' episode of the BBC drama Doctors. The EHP character is on the right.

Apart from being completely unprofessional, the EHP ends up carrying cockroaches in his pocket. And in a bizarre plot twist, the EHP's actions in framing his brother are revealed when a cockroach falls out of his pocket at the doctor's surgery.

The EHP visits the GP due to an asthma attack and the doctor reveals that the exoskeleton of a cockroach is made from similar material as shellfish, to which the EHP is allergic.

Thompson said: "I watched the programme after being contacted by a member. Clearly some research had gone into the episode as the EHP character was reasonably knowledgeable.

"But why are EHPs so often portrayed in a negative light? And we're always portrayed on TV as white, middle aged men – when this is a profession for men and women, young and old, from all backgrounds.

"EH is a really varied profession, with the rare opportunity to make a positive difference – life-saving in some instances. This storyline is not going to encourage recruitment of the next generation of EHP that we need."

Thompson added that CIEH has been working hard to get a positive message across about what EH is and the work that EHPs do in campaigns like #IamEnvironmentalHealth but that these are undermined by poor representations in the media.

*What is your view? Do you think there is a problem with the way the mainstream media portrays EH? Do you think EH has an image problem? Email [email protected]