Ndinelago Landi Moses is a newly qualified EHP from Windhoek in Namibia. Namibia's population of about 2.6 million people has experienced 16 COVID-19 cases (and no deaths as of today) – and some regions including Windhoek are on stringent lockdown. Landi is a port health officer at Hosea Kutako International Airport but as the airport is currently closed, she has been assigned to a road checkpoint, where she is temperature-screening and recording details of every person who passes through.
"The Seeis checkpoint is on the side of the road. It is made of tents. At the checkpoint, we find teams of police officers, military police, traffic officers, immigration officials and port health officials. All these teams perform different tasks with the main goal of ensuring lockdown measures are effective.
"Using a thermometer gun, we take the temperatures of all individuals that pass through the checkpoint, both those coming into and out of the region. Additionally, using a surveillance form, we capture the details of all the individuals we screen. This includes their full names, vehicle registration numbers, contact details, residential addresses, identity numbers and the temperature presented on the thermo-gun. All these details are deemed necessary for case and contact tracing should any of these travellers present positive with COVID-19 if tested.
"On a busy eight-hour shift, we screen approximately 150 individuals. As the roadblock operates 24 hours a day, screening is also expected to occur 24 hours a day. I currently work in a team of three on an eight-hour shift. Fortunately, the ministry has provided us with cars. Team members that have driving authorisation are responsible for the pick-up of other colleagues.
"A truck driver that I screened at the checkpoint once said: 'We're not essential workers, we are the suicide squad.' Although this statement was followed by laughter, there is some truth in it. I did not imagine I would be working as a frontline worker in the midst of a global pandemic so early in my career.
"Due to my humanistic values I believe that each individual should aim to use his or her expertise to make a difference in the lives of many. It is very fulfilling to know that the work I do is contributing to keeping people healthy and contributing to the improvement of public health in my country. Being an EHP is a purposeful career."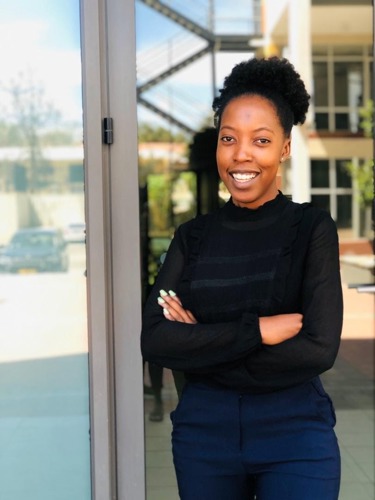 Newly qualified EHP Landi Moses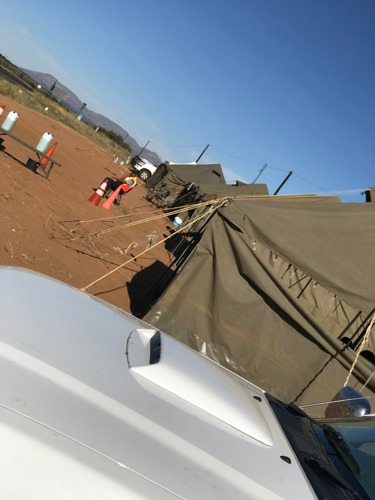 Landi's workplace during lockdown - the Seeis checkpoint