Chartered EHP Jason Austin was, until recently, a Senior Environmental Health Officer with lead responsibility for communicable disease control at Torfaen County Borough Council. Then he was parachuted in to help set up the local authority's contact tracing service, which started up in late May in response to the Welsh Government's Test, Trace and Protect strategy. He is now the Operational Lead for the service. Here he tells us about his journey.
"We saw very early on that EH were key to the effective delivery of the service, because obviously we do a lot of contact tracing through our day to day involvement in food poisoning investigations and zoonotic infections. So we made sure EH were the central focus of the service and then built it around that, it's very much a public protection team effort.
"We've had all kinds of different people involved, from Community Farm Managers to Librarians most of these were redeployed from across the Council. There are over 40 on the team at the moment, working on rotas and they're all office based. That brought its own challenges when we were setting it up. We had to create a new call centre with a brand new case management system built at pace. Setting up the service from an office required careful planning, but has proved invaluable for team building, sharing experiences and learning from each other, albeit at a social distance. That then brought in all the other EH skills: health and safety and risk assessment, and infection control.
"We've had a lull during August when we've been ticking over, but this has provided us with the opportunity to review our processes and procedures, and ensure everyone is fully trained and up to speed. We're just getting ready for the anticipated next wave. The pubs have just reopened, and the new school term is fast approaching. We've also been going over some of the lessons learnt while schools were open for three weeks before the summer holidays. We've got the ability to flex the team up and down as demand changes.
"Our work is certainly making a difference. The R value is reportedly below 1, and we're keeping on top of it. Our contact tracing success rate is very high, 100% of cases have been successfully contacted. As a smaller authority, we have really benefitted from the close working relationships across the Council and willingness of colleagues to help out. We're punching above our weight."
Lessons learnt
1. Gaining an insight into the workings of our Local Health Board has been invaluable. I have already picked up some interviewing tips which I am keen to put into practice when I return to my "day job."
2. Strengthening our links with the Local Health Board will also be key going forward in building a sustainable relationship in terms of the wider public health agenda. I will be looking to tap in to their wealth of resources when things settle back down.
3. Being new to management, I have obviously learned a lot of new skills, getting to grips with the recruitment process, looking after the health and well-being of my staff (rather than giving people advice on how to) and general human resources issues that crop up.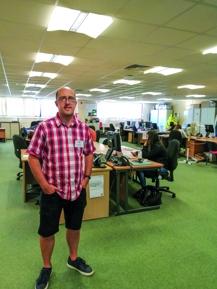 Jason Austin, operational lead