An EHP has been awarded the British Empire Medal for services to policing after 40 years as a volunteer with the Metropolitan Special Constabulary (MSC).
Special Inspector Olson Oxenham, a former EH officer at Camden Council in London and now a safety advisor with NSF International, joined the Special Constabulary in 1979 after he read a newspaper article encouraging people from ethnic minorities to join the police. Now he oversees MSC operations in northwest London.
Oxenham's first posting as a Special was at a north London police station where he said his ethnicity cause him to experience "a mixed reaction from regulars and MSC, some of whom were clearly not very accommodating and made me quite uncomfortable". He subsequently made it his personal goal to see more people of colour in the service.
Cressida Dick, the Metropolitan Police Commissioner, said in a letter to Oxenham: "Your commitment to policing and to the Met over the last 40 years has been remarkable […] You have been an impressive leader in the field of recruitment and opening the Met up to wider communities and encouraging people of all backgrounds to join us."
Although Oxenham considered a career in the police, he chose EH as it fitted better with his degree in human biology and "the more that I found out about EH the more I was attracted to it," he said.
"I decided then to embark on a career in EH and remained in the police as a Special, so best of both worlds, I guess."
The two have been complementary, he added. "The training that I had in the police expanded and reinforced the training I had as an EHO in terms of enforcement, such as investigations, interviewing of witnesses and offenders, taking statements, preparing case papers and improving my confidence in presenting cases in court. Police training also made me more aware of personal safety, dealing with aggression and self-defence."
His EH knowledge also helped in his police officer role, for example when dealing with neighbour disputes and licensed premises. "I also came across unfit living conditions, overcrowding and dangerous HMOs when attending police calls," he said. On one occasion he attended the scene of a fatal fall of an employee in a residential care home and was able to advise the duty officer on the correct RIDDOR reporting procedure.
"I have gained a lot from my time in the Metropolitan Police Service (MPS)," he said. "I have appreciated the many exciting opportunities offered to me alongside the chance to fulfil my passion in pursuing justice and fairness for everyone. I am proud to have become a role model for ethnic minority officers, encouraging trust and respect within the MPS community. I am greatly honoured to have received this award."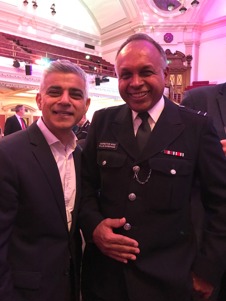 Olson Oxenham, on right, with Mayor of London Sadiq Khan


Oxenham with Metropolitan Police Commissioner Cressida Dick