Business reopening guidance published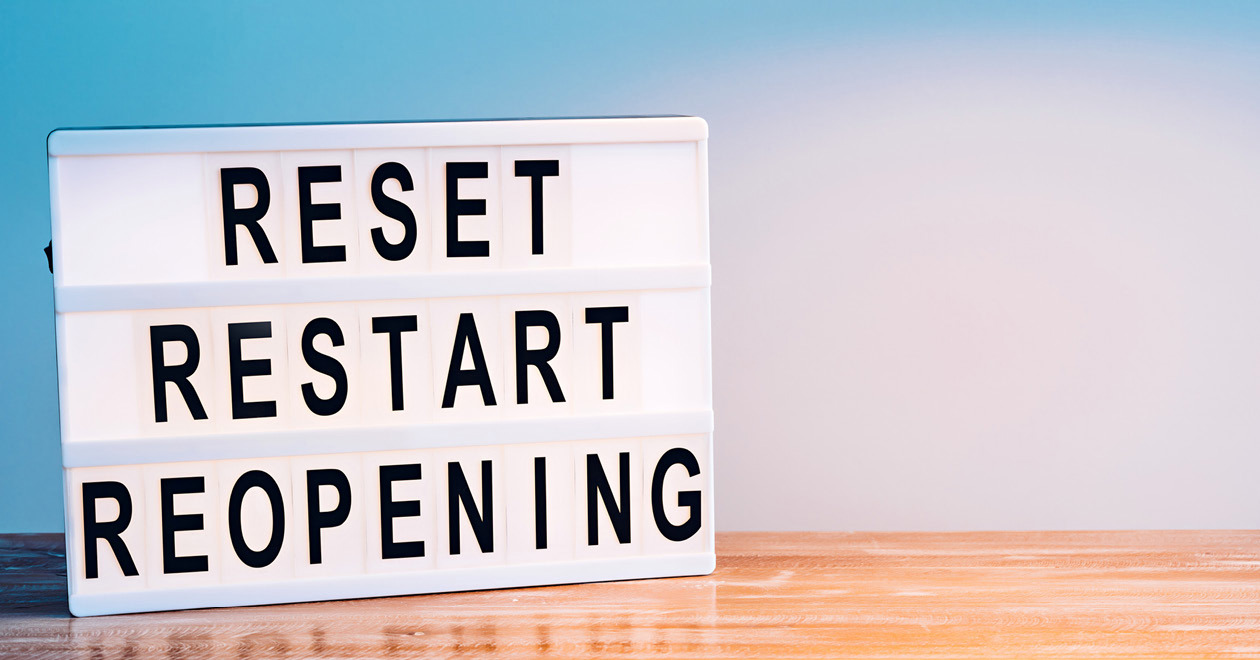 However, not all businesses are due to open and the announcement relating to the beauty and special treatments sector is probably the most unexpected. While hair salons and barbers have been given the go-ahead, most other 'close contact' services have not been given a date and must remain closed for now. Hospitality businesses will also be required to collect contact details from customers to aid contact tracing work.
On 23 June, the Prime Minister also announced that the two metre social distancing will be reduced to 'one metre plus', where a distance of two metres cannot be maintained, from 4 July in England. However, this would be conditional and reversible, and a summary of the review and guidance on social distancing will be published in the next couple of days.
From 4 July, the following would be permitting to open in England if they have the necessary protections in place:

Hotels, hostels, bed and breakfast accommodation, holiday apartments or homes, cottages or bungalows, campsites, caravan parks or boarding houses
Places of worship (weddings of up to 30 people allowed – providing social distancing)
Libraries and community centres
Restaurants, cafes and workplace canteens
Bars and pubs
Cinemas
Bingo halls
Theatres and concert halls (guidance dictates no live performances)
Museums and galleries
Hair salons and barbers
Outdoor playgrounds and gyms
Funfairs, theme parks and adventure parks and activities
Amusement arcades
Outdoor skating rinks
Other indoor leisure centres or facilities, including indoor games, recreation and entertainment venues
Social clubs
Model villages
Indoor attractions at aquariums, zoos, safari parks, farms, wildlife centres and any place where animals are exhibited to the public as an attraction
The following would remain closed in England:
Nightclubs and casinos
Bowling alleys and indoor skating rinks
Indoor play areas including soft-play
Spas
Nail bars (to be reopened when they can be in a secure way)
Massage, tattoo and piercing parlours
Indoor fitness and dance studios, and indoor gyms and sports venues/facilities
Swimming pools and water parks
Exhibition or conference centres where they are to be used for exhibitions or conferences, other than for those who work for that venue
Northern Ireland
The Department for the Economy and Tourism Northern Ireland has published a series of guidance documents for safe working during COVID-19. These include guidance for:
The visitor economy
Hotels and accommodation
Bars, pubs and restaurants
Attractions
Unlike in England, this guidance still refers to two metre social distancing. However, there are a number of announcements on the easing of lockdown restrictions:
Caravan parks, camping sites and self-catering tourist accommodation will be permitted to open from 26 June 2020. Consumer advice has been published for holiday caravan owners
Hotels, restaurants, bars and outside spaces will be permitted to open from 3 July, however, hotel spas and leisure facilities will remain closed
Visitor attractions will be permitted to open from 3 July. Measures will be in place allow visitors to adhere to social distancing
An indicative date of 29 June has been set for the reopening of hair salons, barbers, nail, beauty, tanning services, electrolysis and acupuncture treatments
Since 15 June 2020 the housing market, including estate agents, has been open and key activities around this, such as viewing property, can happen safely, with advice on moving now available
Outdoor sports facilities were opened on 8 June. Outdoor activities in general are now permitted, subject to social distancing being maintained. There is no list of permitted activities but certain activities clearly present lower risks than others, for example, walking, cycling, golf, lawn bowls and angling
Playgrounds remain closed as they are still considered to be high risk due to shared contact with surfaces and difficulties with regard to social distancing
Outdoor drive-in concerts, theatre performances cinema screenings. Everyone attending for this purpose must remain inside the vehicle in which they arrived at the premises for the duration of the concert, performance or screening. The occupants of each vehicle must be members of the same household
Wales
Following the latest Government announcement, all non-essential shops in Wales are now able to reopen (from 22 June). The following activities can also now resume:
Places of worship for private prayer where social distancing is maintained and gatherings do not take place
House viewings in vacant properties and house moves where a sale has been agreed but not yet completed
Outdoor sports can resume but social distancing must be maintained. No contact or team sports allowed
Non-professional elite athletes, including Olympic and Paralympic hopefuls, to resume training
However, a decision has not yet been made on other riskier businesses. At the next review on 9 July, the Welsh Government will consider a range of specific options for opening:
Self-contained holiday accommodation
Personal care services, such as hairdressing and beauty, by appointment.
Discussions will also be held with the hospitality sector about the potential phased reopening of pubs, cafes and restaurants while maintaining strict social distancing
In Wales, the requirement to stay local and not generally travelling more than five miles from home remains in place – indications are that this is likely to be lifted on 6 July.