Training is essential for food safety in hospitals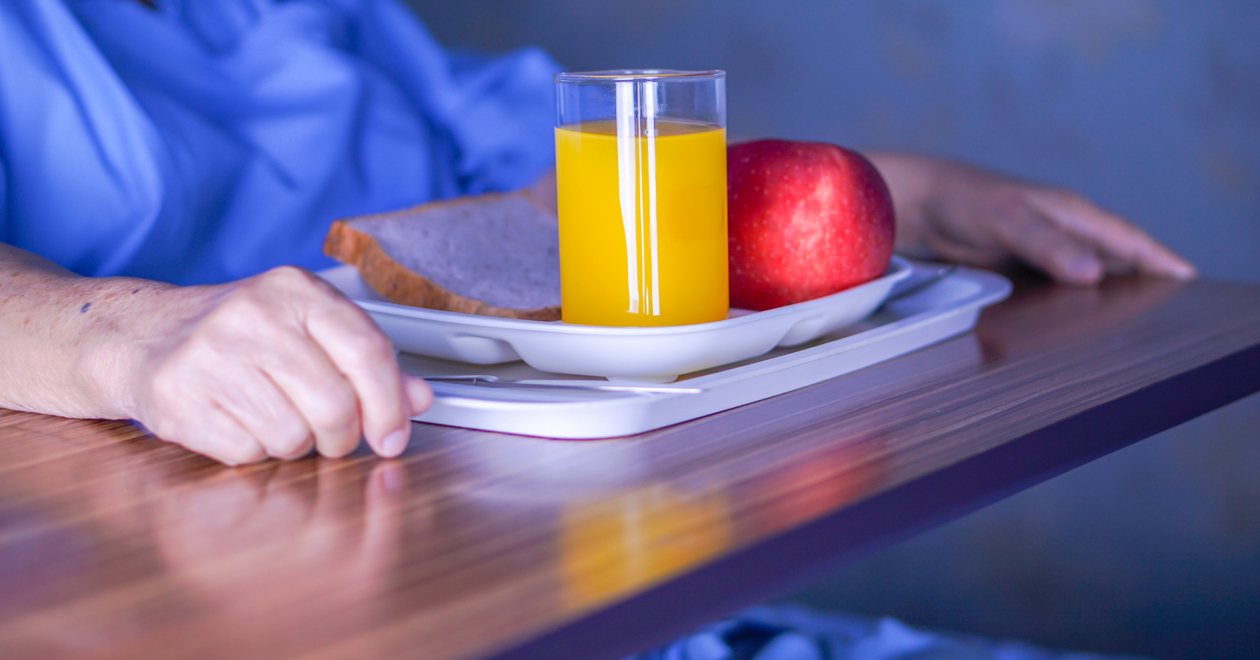 Before moving into training and consultancy (and delivering food safety training up to level 4 for over 30 years!), I worked as a hospital catering manager.
That experience provided me with a really good understanding of how hospitals work but also the challenges they face, particularly around the safe preparation and delivery of the patient meal service.
Catering services in hospitals are complex because the food is provided by a contractor, with the majority being cook-chill or cook-freeze. Products such as sandwiches and salads are often purchased ready-made and illness caused by Listeria in 2019 at two NHS trusts has again confirmed the hazards associated with these products.
The food service is delivered by ward staff – generally housekeepers, health care assistants or nursing staff – whose other tasks such as personal care or cleaning will pose hazards for food handling. Meal service provision is managed by the estates or facilities team and food safety training beyond level 2 is often rare in these departments. In 1984 there was a major outbreak caused by Salmonella at the Stanley Royd Hospital and, while the failures were many, ward procedures contributed to the number of those affected.
A recent intervention at a large acute hospital highlighted the highs and lows of food safety in the NHS. This hospital had received a low hygiene rating and part of the problem was identified as a lack of training for food handlers at ward level.
To address this, I was delivered the CIEH Introductory Certificate in Food Safety (level 1) to 76 ward-based staff, allowing time for the syllabus to be covered with specific details relevant to hospital food service. It was important for the staff to feel that they had a voice and all concerns were fed back to the facilities team.
The aims were to:
Provide food safety knowledge and put it into the context of the ward environment
Identify concerns and action to take – the importance of reporting problems
Motivate staff to put the learning into practice
The response was excellent with most learners engaging with the learning and scoring well in the assessment. Some commented that they had seen changes as a result of the training.
There were examples of good hygiene practices that learners identified, for example:
Good standard of hand hygiene and fitness for work (carriers being excluded from work)
Good temperature control for hot food and effective use of probes
Colour coding, such as the use of blue aprons for food service
Genuine desire to nourish and protect patients
The main concerns that were raised by learners:
Time constraints, such as not reporting hazards or problems because the system takes too long
Designated food handlers were not always available
Protected mealtimes not being observed by all staff, increasing risks because meals might be left at room temperature while a medical procedure is carried out
Cold side of the regeneration trolleys not maintaining temperature, so salads and sandwiches going warm and ice-cream melting
Storage of food at ward level may be unsafe, so not in correct place (hidden in bedside locker) or out of date/not labelled in ward fridge
Lack of facilities, such as suitable dishwashers so patient crockery and cutlery being washed by hand
Other food coming onto the ward – take-aways or visitors bringing food in
Ward managers not having food hygiene training themselves and associated lack of understanding
There was a lack of consistency about procedures for food on the ward (take-aways, visitors bringing in food and use of microwaves for reheating). There was also little food safety training beyond level 1 and no food safety induction or refresher training for ward-based food handlers.
Delivering the training was a really positive first step in addressing these challenges – it was not just about legal compliance but also about inspiring a food safety culture where all staff are confident and competent.
CIEH work-based training provides all of the essential information and delivering it in-person provides the content and context that inspires people to put it into practice. There will always be difficulties and pressures on resources, but effective training will contribute to a positive food safety culture. The food handling staff were impressive in their determination and resolve and demonstrated a willingness to be ambassadors for good food hygiene which as a trainer is a job well done.
I have worked with Oxford Health NHS Trust for over 30 years and, because it considers food safety training to be an on-going process, my experience there has proved to be a noticeable contrast. The Trust is extensive and all catering services are bought in. Housekeepers are responsible for regenerating the cook-chill meals and service at ward level.
Oxford Health provides a one hour 'essential food safety' training session at the induction for all ward staff. All housekeepers and porters are provided with work specific food hygiene induction training and the CIEH Foundation Certificate in Food Safety (level 2) within three months of starting work. The facilities team aims to train managers to take the CIEH Intermediate Certificate in Food Safety (level 3) and one is trained to level 4.
Training is refreshed by facilities managers and team-leaders on an ongoing basis, with formal refresher training delivered every three years. This demonstrates a sustainable training process that contributes to consistently good standards and a positive food safety culture.
Healthcare is facing enormous challenges in the months ahead – food safety training will not necessarily be a priority, but it remains an essential part of overall good infection control in hospitals. Food systems in the NHS are designed to be inherently safe but are only as safe as the people who are involved in the process.
This means that food safety training has an important part to play in ensuring high standards, motivating food handlers and achieving a positive food safety culture and good food hygiene rating. CIEH's work‑based learning courses are an excellent means to this end.