Winter Walking: a festive update on the President's Challenge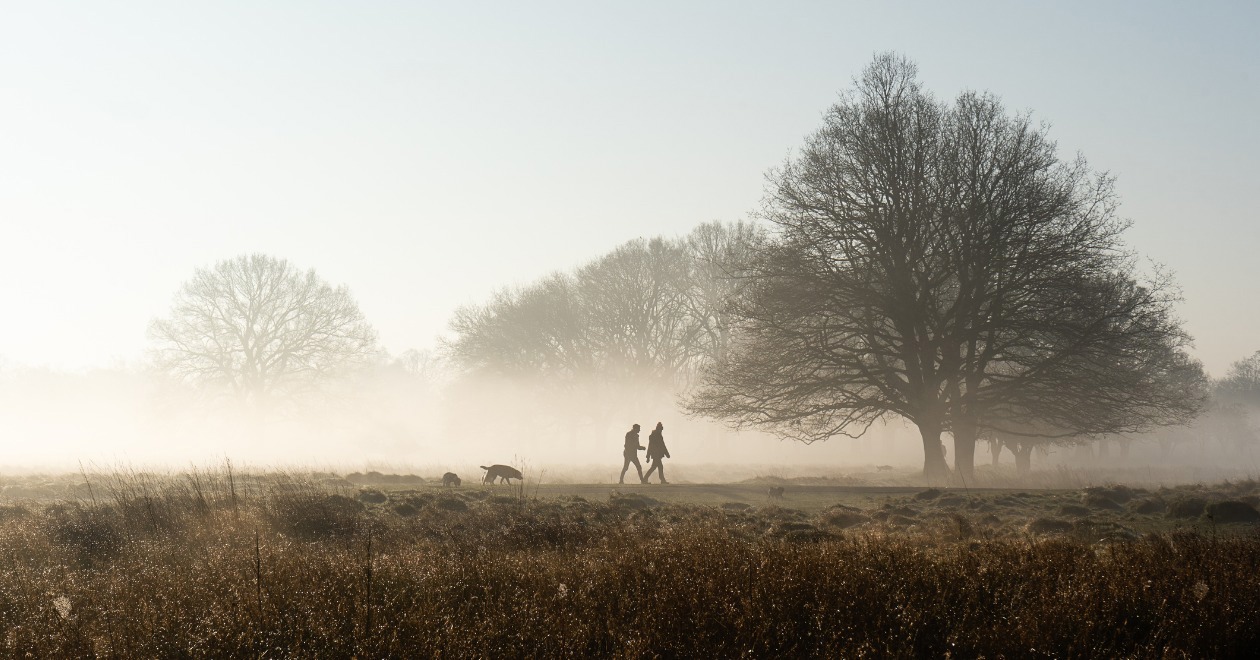 Here we are, nine months into the President's Challenge with three months left to go. I've just counted and at the time of writing 64 of the 191 starters have finished, and another 12 have less than 100 miles to go. I'm allowing myself a wry smile because among the 64 finishers there are a considerable number of 'I don't walk-ers', ' I couldn't possibly walk that far-ers' and 'I'll give it a go but I'm not going to be able to finish-ers'.
Interestingly there are also 19 people who haven't logged a single mile to date. I know some of them are walking and have yet to add their miles and I know one or two haven't so much as located their boots yet. If you are among the walkers but not loggers, please do log your miles. If you have hit half way your miles will provide a meal for someone who needs it and it would be a shame to lose that, and if you are nearly finished just think how fabulous you will look wearing your medal. Christmas is a time for decorations and what better decoration to have?
Since my last blog our fundraising platform has changed. Virgin Money Giving has closed, so we have opened a Just Giving Page which seamlessly takes over and to which donations can be made. Unlike the Virgin Money Page, I don't get an email advising me every time someone makes a donation, so it was quite a pleasant surprise when I opened the page this morning to find that another £100 had been donated about which I was unaware. Thank you donors, supporters and quiz winner, we are grateful for the support. The downside of not getting an email when people donate means that I will now be obsessively checking the page about three times a day just in case someone new has donated. There are worse habits to have….
A number of good things have come out of this Challenge; the Facebook page is one of them. Walkers have been posting photos of where they have been walking. Those who were fortunate enough to have holidayed abroad have posted some lovely photos of far-flung places, and the participants from abroad have posted shots of where they are, but in the main the phots have been of places in Great Britain. It's interesting to see that changes as the seasons have changed – glorious sunny shots of beaches and hills are being replaced with photos showing the lovely colours of autumn. It won't be long before we are having my-snow-is-deeper-than-your-snow competitions.
I've also 'met' some of the people whose name and email I have known for years but who I couldn't have picked out of an identity parade if my life had depended on it. I now know them, and some of their friends through their photos. Some clearly shouldn't be let out without close adult supervision and possibly not even then, some look quite different without their serious work heads on and the most unlikely people have the most unlikely dogs. Choice of walking attire is also interesting. People who are usually suited and booted for work chose the brightest colours and the loudest patterns when they are walking. There is no danger of them not being found if lost; some could be seen with the naked eye from the moon. Now that it's getting colder I'm looking forward to seeing the array of winter walking hats. I don't think my plain navy bobble hat is going to cut the mustard, so I'm going to have to up my hat game considerably.
Winter walking, or running for the die-hard fanatics, is quite different from summer walking. It's restricted by the shorter days, and the route needs careful consideration, but the cold air can be exhilarating particularly when you have been stuck in a warm officer with recycled air or in the house, and the light during the winter months can be lovely. As yet another variant of COVID-19 hits us and the need to be more careful about meeting up and socialising kicks in again the opportunity to be outside just to clear your head and feel the rush you get from inhaling cold air is likely to be ever more welcome. Even if you aren't one of the 20-21 Challenge team still walking you can get out; think of it as practise for the 21-22 Challenge about which there will be more detail in the New Year.
I wish you all a happy Christmas. Eat, drink and be merry, then on Boxing Day pull on the inevitable new pair of walking socks and get outside to walk off the excess. Should you be inclined to share a bit of seasonal goodwill please make a donation to Water for Kids on our donation page.