President's Challenge: an end and a beginning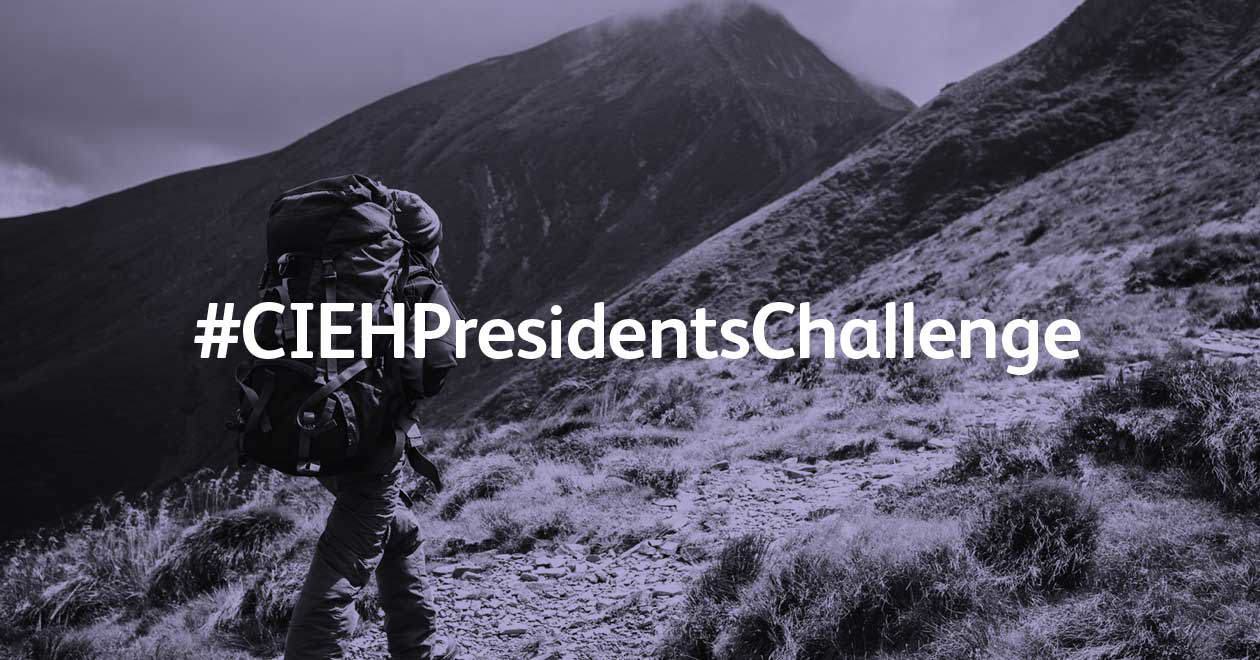 There's an old saying, which I've just made up, that says that if a thing is worth doing, it's worth doing twice. The first President's Challenge is about to end on 28 March, and in its place, there will be a new, second President's Challenge, in an almost seamless transition.
Can we say that the first President's Challenge was a success? I think we can. It had several ambitions, the first of which was to encourage participants to get out and walk, making a bit of time for themselves away from home working, homeschooling, and all the pressures that came with working through the coronavirus pandemic.
191 participants signed up, not just CIEH members or EHPs and not just in the UK. Of those at the time of writing, 74 have finished, amassing a total of 46,620 miles between them and another dozen are within 100 miles of the finish with two months still to go. We have hit the target of raising £5,000 for Water for Kids, particularly important as charities have found fundraising so difficult during lockdown. We've managed to plant 145 trees which will help to tackle climate change and have also provided over 120 meals for hungry people as participants have crossed the halfway line. An unexpected but very welcome benefit has been the Facebook group which has become a lively community of walkers encouraging each other, sharing pictures, making new friends, and finding new places to visit and explore. I think that is a success by any measure. I did warn participants that dot watching and mileage gathering becomes addictive, and so it has. More than one person who completed the first challenge has taken on another following it, at least one has been round twice, and a considerable number have been asking about what's next?
As I've alluded to a couple of times, the new challenge is another virtual walk, or run if that's your thing, this time around the Wales Coast Path. 870 miles of fabulous scenery viewable on the interactive map, starting on 1 March – St David's Day. The walk starts in Chepstow at the foot of the Severn Crossing and winds its way through Cardiff Bay, along the Heritage Coast, through Swansea and the Gower peninsular, up through Pembrokeshire via the smallest city in the UK, St Davids and on to north Wales across the Llyn peninsula, round Anglesey, through Caernarfon with a finish near Chester. Virtual postcards are sent to participants as they hit key milestones and finishers get a medal and finishers certificate and can either opt to have a T-shirt or plant a tree. Once more we will be supporting a charity, which will be chosen by members of the Facebook group and is to be announced very shortly.
I really encourage you to join up. The administration is minimal - just record your miles and upload them whenever you like, once a day, week, or month if you like. Count every footstep whether running, jogging, walking around the house, the district, the golf course or walking the dog. If you break it down, 870 miles in 12 months equates to an average of just under 2.4 miles a day. It's not a race, it's about taking it at your own pace and just finishing, getting postcards and a medal for yourself, supporting a good cause providing meals for persons in need and planting trees to help tackle climate change. A few miles can make a huge difference to a lot of lives.
It costs £32.99 to sign up, £10 of which is a donation to the chosen charity and we ask every participant to raise £30 if they can. It's not a requirement and it's certainly not a deal-breaker. The joining link will be advertised shortly, and you have until the end of July to join up and until the end of February 2024 to finish. For those who haven't quite finished the South West Coast Path don't worry! You can double count your miles for both – no one will know or care!
Why should you sign up? It's good for your physical and mental health. You'll be supporting a charity, helping to tackle climate change and helping to tackle hunger. Your dog, if you have one, will love you for it. It's easier than you think and it's a huge achievement when you finish. And your President will love you for it! Come and join us, it's going to be great.