Open letter to CIEH members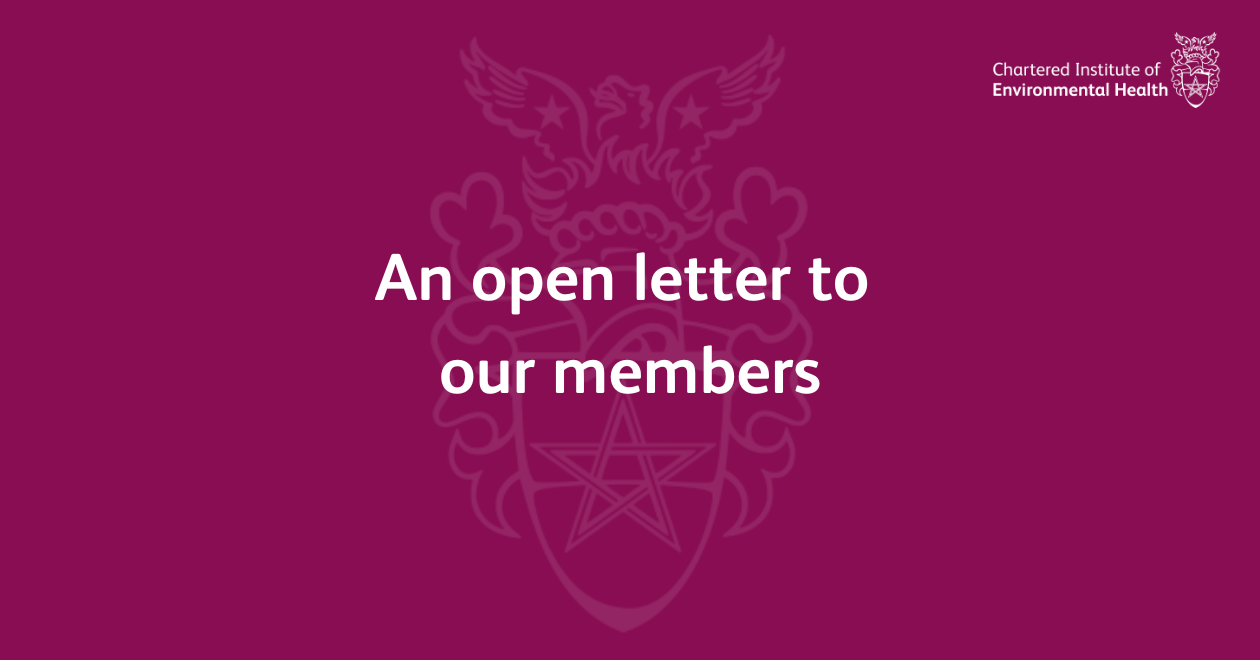 Dear member,
You will be aware of the uncertainty surrounding the CIEH Board of Trustees in recent months, including the passing of a vote of no confidence on 23 March. My colleagues and I on the CIEH Board of Trustees have been listening and reflecting on what members have to say and it has become clear that CIEH needs to restore trust and transparency. We are committed to making this happen.
We have heard the call for the Board to resign in its entirety and I want to reassure you – we are taking your calls for change seriously. Most recently Jonathan Hayes and Roisin Kerr have stepped down from their roles as Elected Trustees. They have done so to create vacancies on the Board, which can be filled through an open and fair election process consistent with our principles of equality, diversity and inclusion. We will be running an election for six positions. Notice of the elections will be given on 9 May, you can view the full timetable on our website, together with details of how and when these six positions will be filled.
While three elected Trustees have recently stepped down, a number of the current Trustees are still in place, which is essential to ensure CIEH has a functioning and quorate Board and is able to undertake key activities such as accepting the petition for and ordering the Special Meeting. This is also why the Board is making two appointments on a short fixed-term basis. These two Trustees will serve only up until the end of the first Board meeting at which the new Elected Trustees take up their places.
As you can see from the above and motions put forward for the Special Meeting on Thursday 27 April, the current Trustees are actively supporting changes to the Board that are fair, democratic, and transparent. As a profession we are working against a backdrop of a workforce shortage and a cost of living crisis, so the stakes are high. This makes it more important than ever that we work together and ensure that those who take up leadership roles as CIEH Trustees are elected by the wider membership. I believe that this is the only way we can ensure future confidence, fair representation, credibility, and integrity in the Board.
Currently, the Board comprises a maximum of 13 Trustees, of which six are elected by CIEH members. Up to another six Trustees are appointed by the Board. In addition to this I, as the President am also appointed by the Board. Once the elections have taken place, the new Board that is then in place can then change the balance of elected Trustees to co-opted members (appointed Trustees) on the Board to 9:3 as voted for in the Special Meeting in March. Any CIEH member can put themselves forward for an elected Trustee position and members can also become appointed Trustees.
The opportunities available to members, details of the Trustee election procedures and further information can be found on our website.
Please look at the motions put forward for the Special Meeting later this month and engage with both the voting and the meeting to ensure that the changes you want are made. Members in the Member or Fellow grades can vote on the motions being put to the Special Meeting. If you are unable to attend on the day, please follow the unique link provided by UK Engage in a recent email to cast your Proxy vote at any time before 2pm on the 25th of April.
Please also engage in the election process in May and June, whether it is as a candidate or by casting your vote; your participation is vital for the success of CIEH. Every single CIEH member can stand for election and can vote in the elections.
I want to reassure you that change is already happening at CIEH. The team are working hard to design and deliver new strategies that encourage and support member engagement, to offer new opportunities for members, and to align the organisation's priorities with the key issues you are facing. We recognise that change is needed, and we will continue to listen to and advocate for our profession.
Finally, I want to take this opportunity to thank you for your support and patience as we navigate this change.
Warm regards,
Julie Barratt
CIEH President