Ensuring the health impacts of noise are considered in national policy decisions
In England and Wales, the CIEH Noise Survey provides the only source of information on the vital contribution made by environmental health professionals working to resolve noise complaints.
2020/21 Noise Survey
The 2020/21 England Noise Survey report has been published. 144 local authorities responded to the survey, accounting for 45% of local authorities in England.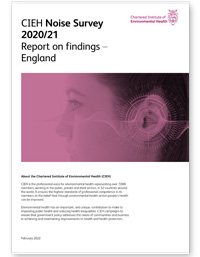 The report found that the number of noise complaints increased by 54% between 2019/20 and 2020/21 in 89 local authorities, which participated in both years.
Key findings:
A total of 356,367 noise complaints were recorded by 144 local authorities, on average 149 complaints for every 10,000 people
11,211 formal actions were taken by responding local authorities
There were 88 noise-related prosecutions
The average number of complaints per Full Time Equivalent Professional increased from 299 to 633
There are 563 FTEs working at 144 local authorities to investigate and resolve noise complaints, on average 3.9 FTE per local authority
This year's report is supported by Cirrus Research. Established in 1970, Cirrus Research is a globally recognised name in scientific noise measurement equipment, serving health and safety and environmental health professionals in all parts of the world.
Noise changes lives, and Cirrus Research's priority is to make monitoring, measuring, and controlling excessive noise levels as straightforward as possible, whilst ensuring that the most effective decisions are taken to protect people and the environment from the risks noise presents. Cirrus Research has a long-standing relationship with local government environmental health officers, housing associations and independent acoustic consultants, and actively contributes to the successful resolution of noise nuisance complaints by supporting EHOs with market-leading instrumentation that provides in-depth data and analysis.
Noise survey 2020/21 report - England
2020/21 Wales Noise Survey
Wales noise survey is now closed. All local authorities in Wales participated in the survey and the results will be published shortly.
For any queries relating to the Wales Noise Survey, please email [email protected].
Why is it so important?
Our noise survey provides the only source of regular national information on the important contribution made by EHPs working to resolve noise complaints.
Our survey results were referenced in the 2017 Chief Medical Officer annual report to emphasise that "environmental noise comes second in burden of disease to air pollution and arguably is responsible for more disturbance of quality of life". Noise is the single largest issue of complaint made to local authorities in the UK and over 80% of people report being exposed to noise pollution in their homes.
Past survey results
England
We collected data from 117 local authorities in England.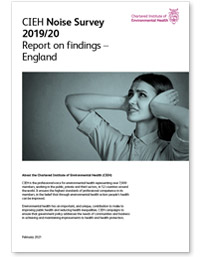 The report covers:
The total number of noise complaints received
The total number of notices served
Other formal actions taken by local authorities
Staffing levels for noise-related work
The number of prosecutions
Breakdowns of noise complaints by sector
Breakdowns of data by region
CIEH noise survey 2019/20 - England
Wales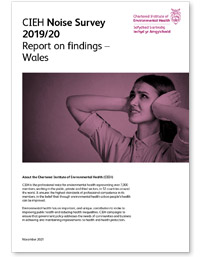 Responses to the survey were received from all local authorities in Wales.
Key findings:
Noise complaints 10% up on previous year ranging from 10 per 10,000 population in Anglesey to 177 per 10,000 population in Swansea
323 notices served (by 20 local authorities) under the Environmental Protection Act to deal with noise amounting to a statutory nuisance
Formal action taken under other legislation to deal with noise in 22 cases (by five local authorities)
Five simple cautions issued
There were 34 noise-related prosecutions (eight local authorities)
All but two local authorities reported that they were using the Noise App
All but one local authority were using Matron monitoring equipment to assist with noise investigations
Eleven out of 22 local authorities have arrangements in place to respond to noise complaints out of office hours
England
We collected data from 143 local authorities in England.
The report covers the same areas as the new 2019/20 report excluding other formal actions taken by Local Authorities.
CIEH noise survey 2018/19 - England
Wales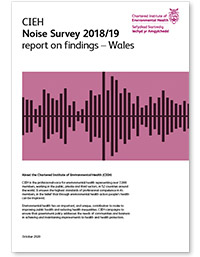 All 22 local authorities in Wales responded to the survey, which is a response rate of 100%.
In total 18,567 noise complaints were recorded, which works out as 59 complaints for every 10,000 members of population. Noise from residential premises accounts for the largest proportion of noise complaints, while industrial noise accounts for the lowest proportion of noise complaints compared to other sectors.
Northern Ireland
In Northern Ireland the Department of Agriculture, Environment and Rural Affair's (DAERA) Air and Environmental Quality Unity (AEQ) conduct an annual report on complaints received by the district councils.
CIEH Leadership Programme
Take your career to the next level with the CIEH Leadership Programme.
Find out more
Top