Chartered status case study:
Stuart Goodbun MCIEH CEnvH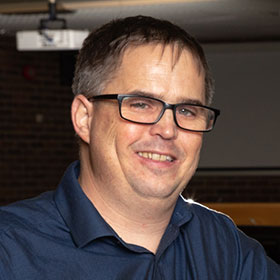 Stuart is a Technical Officer who works in the control of pollution team at Wycombe District Council, and graduated from the two-year, practice-based Chartered Environmental Health Practitioner Programme in 2020.
I came to environmental health quite late and undertook my degree when I was 38, having spent 20 odd years working in the private sector mainly in retail catering and the entertainment industries.
I was attracted to CIEH's Chartered Environmental Health Practitioner programme because it was focused on what we as Environmental Health Practitioners (EHPs) actually do on a day-to-day basis, rather than academic and abstract like the previous professional portfolio.
The programme is very broad in its scope and is packed with content. It fitted in with my normal working routine and you can pick out the elements that directly benefit your work and team over the two-year period, and then get as in-depth with them as you want to. There were certain aspects that I found very interesting from a personal point of view, which then prompted conversations with my mentor and with my own team.
My mentor is a senior member of my team with significantly more experience in environmental health. As we have a good working relationship, I was able to bounce ideas off him to get immediate feedback.
The programme is designed to broaden your understanding of the topic areas and encourage you to think outside the box in terms of how you would usually approach certain situations. This goes from the way it is structured, the way the content is phrased right through to the way it works through the competencies that you need to develop or improve.
The support that's in place is very good. You've got immediate access to other peers on the programme through the LinkedIn group, so you can share ideas and get immediate feedback.
The global pandemic has really focused people's minds on environmental health and I have a sneaking suspicion that there's going to be a lot more work coming our way. Now that I have achieved Chartered Status, I see that when I speak to my service director or am engaging with stakeholders outside the council they tend to sit up and take a bit more notice of my opinions. Equally, when attending court as part of enforcement the first thing they look at is your credentials, and being Chartered EHP gives you a lot more credibility.
You can also read a previous interview with Stuart and his mentor, Carl Griffin, which originally appeared an article in the February 2019 issue of EHN.
CIEH Leadership Programme
Take your career to the next level with the CIEH Leadership Programme.
Find out more
Top