CIEH has won the Best Video Award at this year's Association Awards UK.
This was in recognition of the suite of video content that was produced to support the What is environmental health? campaign with the aim of raising the profile of the environmental health profession, and encouraging people to join it.
Now in its fourteenth edition, the Association Awards UK is run by the Association of Association Executives and recognises and promotes best practice in associations and professional bodies. The 2020 winners were announced at an online awards ceremony on Wednesday 16 December.
The judges said: "This was such a well thought project. The videos are short, focus on the members and provide an insight into the sector by placing the members at the heart of the story-telling. The results are amazing, truly impressive and inspiring. Great example of an association using video successfully and an effective way to increase members participation".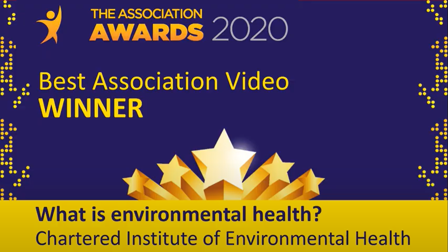 In addition to winning this award, CIEH was also shortlisted for the Best Member Support during COVID-19 award for its coronavirus hub and activities supporting members during the pandemic. There was a 50% increase in the total number of nominations compared to last year, with this category being by far the most popular.
Debbie Wood, Executive Director of Membership & External Affairs, said:
"I am very proud that we have been awarded the Best Video Award at this year's Association Awards UK. The entered videos featured the stories of some of our dedicated members to help us celebrate the importance of the environmental health profession. Our thanks goes to them for taking part and making this possible.
This year has been both challenging and rewarding, so I am also pleased that the hard work of our staff and volunteers has been recognised through our being shortlisted for the Best Member Support during COVID-19 category, especially given its popularity."