Michael Wanyama is executive director of Wanyama Autosafety Initiatives. He spoke to EHN about how the education of mechanics is the first step in tackling Kampala's pollution.
"In Uganda, 31,600 people die each year due to air pollution-related diseases. Children under five are most affected as their systems are not fully developed to fight environmental toxins. Unfortunately, we lack strict laws and regulations on emissions to curb this. Our capital, Kampala, is heavily polluted and the smell of the streets during peak traffic hours can be sickening. Most vehicles are old, poorly maintained and physically smoking. This is partly due to the limited capacity of the mechanics maintaining them and the impact of counterfeit parts.
"I am a mechanic by training with no formal academic background in environmental health, but I have been learning over the past 10 years using online and offline resources, plus collaboration with experts in the field. That's how I developed a passion for making a positive difference to our environment and public health through Wanyama Autosafety Initiatives (WAI), a non-profit operating in Kampala.
"Our objective is to improve road safety and environmental health. We raise awareness on areas that need urgent action, build the capacity of communities for affordable mitigation measures and disseminate information aimed at influencing policymakers. Primary target groups include local mechanics, motorists and industrialists.
"Engagement with mechanics starts by identifying makeshift garages that do not have the basic tools required to repair vehicles properly. Because they are cheap, they are the ones that attend to the largest number of vehicles in Uganda.
"We approach them through their leaders and promise to help train them. Currently, one common practice is the removal or modification of catalytic converters, allowing toxic exhaust gases into the atmosphere. Mechanics usually do this in an effort to fix engine-related problems but also sometimes maliciously for the platinum content. Other dangerous activities include spray-painting in open spaces and it's not unusual to find a garage next to a pre-school or even a children's hospital.
"What most motorists and technicians don't realise, or realise too late, is that fixing one problem can lead to others that cause increased fuel consumption, loss of power and higher emissions as mechanics tamper with different engine management systems.
"As it says on our WAI shirts: "A little care makes accidents and pollution rare."
Donate to WAI's campaign.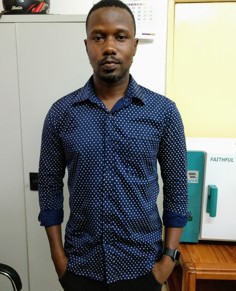 Michael Wanyama, executive director of Wanyama Autosafety Initiatives
This is an edited version of an article that first appeared in the April 2021 issue of EHN (login required).