EHP Terence Harris's team had to act fast to make sure clinical staff at his hospital were properly kitted out. He told EHN about the busiest four weeks of his career.
"Crown immunity wasn't completely lifted for NHS Trusts until 1991, so health and safety remains a developing field in hospitals. Getting it embedded into NHS culture can therefore be something of a challenge. Three years ago, the health and safety department was just me, but now I lead a team of 13 subject-matter experts across general health and safety, health and safety training, fire safety, manual handling and non-clinical risk.
"Arguably, our biggest challenge has been to redesign the Trust policy and process and develop an enhanced programme of face-fit testing for respiratory protective equipment (RPE). The Health and Safety Executive mandates that anyone using a tight-fitting respirator must be fit tested. This isn't a new concept in the NHS, so although we had a process, it was a very small process for a very small number of people. There are 16,000 staff in our Trust.
"Not everyone requires a fit test but a significant proportion are clinically based. It was a case of pulling together the knowledge, creating a policy, buying the equipment and then creating and delivering a course to train staff across the Trust on how to do the test, and then monitoring that process through a quality assurance programme.
"We introduced Ambient Particle Counting (APC) machines, which measure the ambient particles around the wearer's face mask against the particles inside the mask. We can now test on any tight-fitting respirator, reusable or disposable, as long as they meet both the NHS and HSE standards of FFP2/3.
"We had to show clinical staff we understood their duty to patients but also explain they had a duty to themselves and patients to make sure that they're safe. That's been the story of the past six months.
We secured that buy-in and we have a rolling programme in place for fit testing, a robust policy and a bank of more than 100 staff who are trained to do the tests. And we've got machines in all the category one areas that staff are using.
"All of that was done within four weeks. The team and I have never been busier and I've never felt pressure like it. But knowing we achieved it is such a great feeling."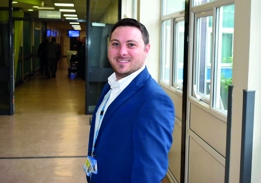 Terence Harris is head of Compliance and Safety at Liverpool University Hospitals NHS Foundation Trust. Follow his team on Twitter @LUHSafety
This article appeared in the December 2020-January 2021 issue of EHN (login required).