Steffan Micah is an EH officer on the Local Government Association's Fire Safety Joint Inspection Team, which was set up after the Grenfell fire to help councils force landlords to remove combustible cladding. It's been a slow start but now they're getting somewhere, he told EHN.
"When combustible ACM cladding on buildings over 18m was banned, it was felt that the best way to address problems with landlords failing to remediate was to use Housing Act 2004 powers.
"Few local authorities have a fire expert in their EH teams so a national multidisciplinary team was formed: that's us. We're funded by the Ministry of Housing, Communities and Local Government (MHCLG), but we're based at the Local Government Association and do not work directly for central government. The team consists of a team leader, a principal EH officer, two EH officers, a fire engineer, a building control expert and a legal adviser. We cover England only, with the devolved nations having their own regimes.
"Cases are referred to us by MHCLG and it is up to local authorities whether they take up our assistance. We have no enforcement powers but we'll help with enforcement action and attend court. Once an authority has agreed to our help, we review and inspect the block over two days. Most of the blocks visited so far have been much more complex than the one in the HHSRS worked example, which is designed to help EHPs taking enforcement action against ACM blocks.
"Building owners and managers are often confident we will find nothing wrong with their building. This can quickly change following, or even during, our visit when it becomes clear what the consequences could be. They can become very defensive as a result. We also usually find that post-inspection a lot of further documents are provided by the building owners.
"Progress is not as quick as we'd like: the legal and construction processes often means the remediation of combustible cladding takes 12-18 months, but in the team's second year, we expect to see more blocks made safer. Most Improvement Notices served following our visits have been appealed but landlords have subsequently agreed to most of the works following discussions. As we progress through the team's second year, we expect the workload due to appeals to increase, as more cases move to the enforcement stage."
This is an edited version of an article that appeared in the July-August 2020 issue of EHN (login required).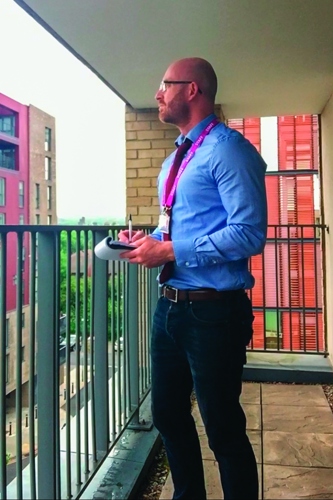 Steffan Micah of the LGA's Fire Safety Joint Inspection Team