Fiona Inston, head of public protection at Lancaster City Council, describes making the most of an hour of the English chief medical officer's time:
"It was a stunning day when Chris Whitty, England's chief medical officer, came to visit in September. He was in the area to look at coastal towns and the impact of health challenges and deprivation. He'd been in Blackpool in the morning and in the afternoon he came to Morecambe.
"I got a heads-up a few days previously that I'd have some time with him. In the end I had about an hour. We did a walk through some of our communities and went to our community food hub where there's a food bank, talking through some of our challenges – but also showing him our fantastic buildings and the view over to the Lakes.
"Naturally I bent his ear – nicely – about COVID-19 and how we've dealt with it. But my real interest is in a holistic overview of public health so I wanted to show him how we work with partners to tackle health inequalities locally. We had a look at life in Morecambe, including Home-Start and some of the Early Years local charities. We talked about adverse childhood experiences and food poverty, our youth work, some of the challenges around a population health approach, and about working with the Clinical Commissioning Group and the integrated care community.
"Whitty had a real interest in our work. He was really switched on to the challenges on the ground. He was interested in how I got into this job, so I explained to him my Degree in EH and a bit about the challenges around retaining people in the profession and how it doesn't have the profile it should have. I'm not sure he really knew much about EH before our conversation.
"I followed up the visit with an email containing some recommendations on how government could help EH officers to increase standards to protect the public, such as COVID-19 measures becoming legislation rather than guidance, and creating powers for immediate closure based on imminent risk. Whitty forwarded it to the Cabinet Office, saying what I'd said was "extremely sensible" and "this seems an open goal to me" – so I feel that was really good in terms of advocating EH.
"We have a really important role. We need to take the opportunities to trumpet EH where we can."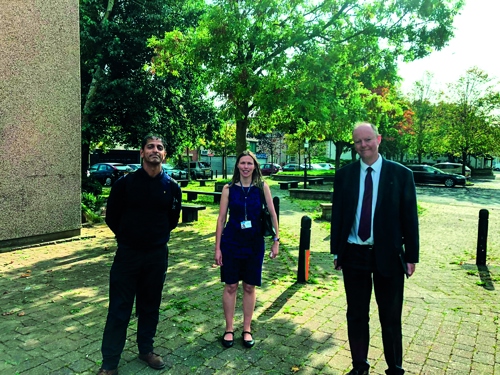 (Picture caption: From left: Yak Patel, CEO of Lancaster District Community & Voluntary Solutions; Fiona Inston, head of public protection at Lancaster City Council; Chris Whitty, chief medical officer for England)
This article is an edited version of one that appeared in the November 2020 issue of EHN (login required)