CIEH Excellence Awards: what winning meant to me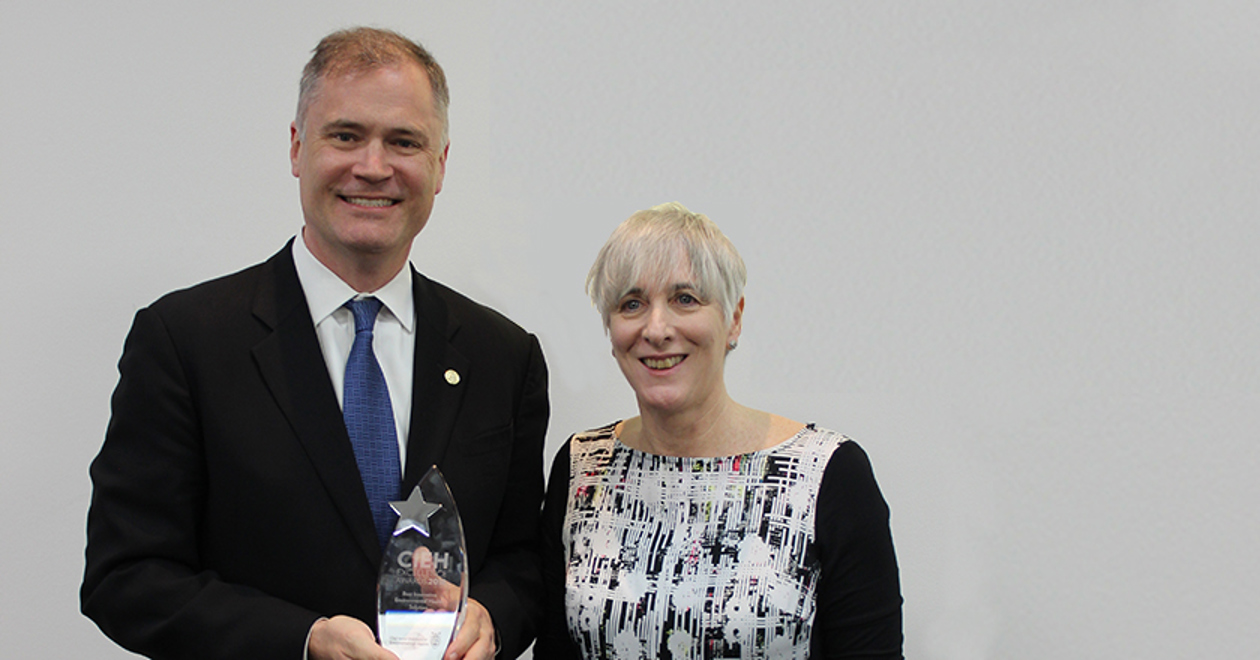 Why did you enter?
My work in environmental health is primarily driven by a desire to protect the public's health, with a particular emphasis on serving the most vulnerable. As an academic, I regularly share details of my work with my peers in higher education, but I entered the CIEH Excellence Awards in 2018 to gain invaluable feedback from my practising peers, thus bridging the gap between academic research and public health practice.
What did you learn from the process of preparing your entry?
In preparing my awards entry, I started by reviewing the entries of past winners. I read the case studies online and also got to engage with a past finalist on social media. I learned about the work and the attributes of prior winners, and modelled my application on their exceptional work as a template for preparing my own awards entry.
What did winning mean to you?
Winning in the Best Innovative Environmental Health Solution category was a tremendous honour, but I must admit, just being selected as a finalist and being part of the process was a reward in itself.
How has winning the award benefited you, your team and your organisation?
Visibility! Winning such a prestigious international award is a boon to every individual, team, and organisation. CIEH is THE gold standard for environmental health and having my entry selected by my peers as the best-of-the-best, boosted my confidence and puts a spotlight on our efforts to protect environmental health.
Has winning changed how you think about your role and work?
Winning is both an honour and a responsibility, meaning that others are now looking to me and learning from my work. Serving people by protecting environmental health is its own reward. I am using my win as an opportunity to celebrate and mentor others – to give back to the profession that has given me so much. Through winning a CIEH Excellence Award, I've become even more involved with CIEH where I now serve on the Welfare Fund Committee and have a chance to make modest contributions to help those in our field who have fallen on hard times. In addition, I was also thrilled to attend the CIEH Year Ahead Conference in early 2019.
What advice would you give to someone who is preparing their entry?
Go for it! Explore and engage! The CIEH Excellence Awards are all about promoting our profession and dedicating energy to improving environmental health. So, if you have a project which you are proud of then DEFINITELY submit! Personally, I'd be happy to provide some quick feedback to anyone who is considering an entry. The experience of reflecting on your work - writing it up and speaking with others about it - offers a chance to improve. Reflection is a powerful force for good - something we too often ignore, but which is part of the process of preparing an entry for the CIEH Excellence Awards.
What would you say to someone who is not sure about entering - why should someone enter the awards in 2019?
If you aren't sure…I totally "get it"! As a profession, environmental health practitioners are humble. Our work occurs in the background and society rarely hears about our work unless something "goes wrong". That's a problem. We need to be bold in promoting environmental health and have an obligation to speak up. And the CIEH Excellence Awards are a platform for you to do this. Submit your work. Exercise your voice. Share your best practice. Learn from your peers. Because, after all, the purpose of the awards is the same as CIEH's mission: to promote standards and training, and to make environmental health better. We MUST continue to push ourselves to get better because we have a tremendous responsibility to the public we serve. Environmental health is essential to human health, and we need to support and celebrate each other.